Update 1st April 2020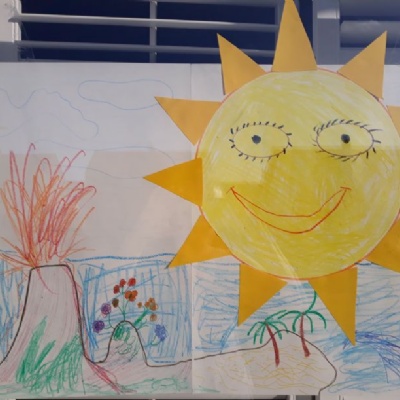 Good Morning. Some more lovely window pictures to share this morning:
A Pyramid and a volcano – what a treat!
The window challenge theme this week is sunshine – look on Facebook 'The Hills Rocks UK' to see the weekly themes.
Plant some spaghetti
Dear children you could try planting a small piece of spaghetti today to see if you can grow a spaghetti tree – the first person who manages it gets to be headteacher for a day when we come back to school! Watch this old film (with the help of a grown up) to tell you all about it:
https://www.youtube.com/watch?v=tVo_wkxH9dU
Keeping in touch
Whilst we are absolutely not checking up on you and what you are doing at home, it would be great if you could just touch base with your child's teacher via the class email address. The Department for Education would like us to ensure that we do have some regular contact from everyone, so If you haven't yet been in touch please do drop a note perhaps with a photograph of something your child has done. Thanks for your help with this!
Do you need help?
The Bedford Borough Community Hub is up and running if you need support with shopping, food parcels and prescriptions. For urgent help you should call 01234 718101 or you can visit the website https://www.bedford.gov.uk/social-care-health-and-community/public-health/coronavirus/coronavirus-community-hub/ And click on the 'Request for help' purple button.
Remember to consider the mental health and wellbeing of yourself and those around you. There are some useful resources at:
https://www.mind.org.uk/information-support/coronavirus-and-your-wellbeing/
https://www.mentalhealth.org.uk/publications/looking-after-your-mental-health-during-coronavirus-outbreak
E-Safety
Mrs Williams is producing a fortnightly e-safety newsletter to support you and your family with keeping safe online during a time of prolonged use. The first edition is attached as a PDF to the email. If you are unable to read it you will need to download a reader such as Adobe Acrobat
https://acrobat.adobe.com/uk/en/acrobat/pdf-reader.html
Something for the grown ups
If you are into Jazz, Ronnie Scott's is live streaming some sessions, there is one available on YouTube right now:
https://www.youtube.com/watch?v=_qbqenRzVkA
but if you sign up on their website they'll let you know about upcoming events.
The National Theatre is screening a programme of live productions on YouTube (every Thursday in April and May at 7pm) which starts with James Corden's amazing performance in 'One Man Two Guvnors' tomorrow. Here's the trailer:
https://www.youtube.com/watch?v=H_1Qubvgjow
In future weeks they are going to stage 'Jane Eyre', 'Treasure Island' and 'Twelfth Night'.