Update 31st March 2020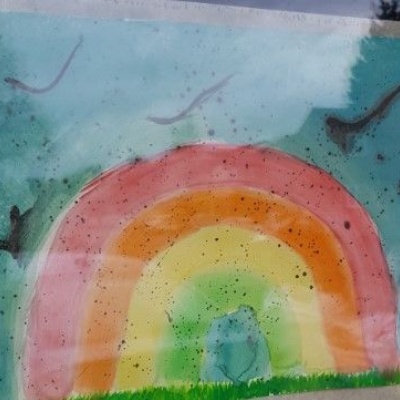 Dear Parents , Carers and Children
Good Morning. A few more lovely window pictures to share this morning:
Thank you children for spreading some sunshine and happiness!
The window challenge theme this week is sunshine – look on Facebook 'The Hills Rocks UK' to see the weekly themes.
Online Music lessons
The online music provision is now ready and it is a great resource. The only slight issue is that we have to get login details out to everyone. We are going to send out a class list through class emails with first name only (to comply to GDPR) and login details next to it as it isn't practical for us to compile 400+ individual emails. This isn't ideal, if someone did login to your child's account there are only learning activities to do, so we kindly request that you lift off your child's login details and then delete the form. Many thanks for your help with this.
Keeping in touch
Whilst we are absolutely not checking up on you and what you are doing at home, it would be great if you could just touch base with your child's teacher via the class email address. The Department for Education would like us to ensure that we do have some regular contact from everyone, so If you haven't yet been in touch please do drop a note perhaps with a photograph of something your child has done. Thanks for your help with this!
Do you need help?
The Bedford Borough Community Hub is up and running if you need support with shopping, food parcels and prescriptions. For urgent help you should call 01234 718101 or you can visit the website https://www.bedford.gov.uk/social-care-health-and-community/public-health/coronavirus/coronavirus-community-hub/ And click on the 'Request for help' purple button.
Remember to consider the mental health and wellbeing of yourself and those around you. There are some useful resources at:
https://www.mind.org.uk/information-support/coronavirus-and-your-wellbeing/
https://www.mentalhealth.org.uk/publications/looking-after-your-mental-health-during-coronavirus-outbreak
Keyworker/vulnerable children still in school requiring before and after school care and Easter holiday provision
Please can you ensure that if your child is still coming to school that you book before and after school care in the usual way so we know if staff are needed. Please can you confirm if your child will be coming to school during the Easter break. Many thanks.
Where in the world?
I'm sure you can guess !
It is cherry blossom time in Japan right now (and some are beginning to come out here too). The Japanese always celebrate Cherry Blossom time by having picnics under the cherry trees and big parties, the weather is getting warmer in southern Japan right now and it is a dry time of year too. This year they won't be allowed those big parties, but I wonder if you'll get to Japan one day, when you are a grown up, at this very special time of year?
The Japanese word for Cherry blossom is sakura
There is a traditional Japanese folk song called Sakura Sakura which you can listen to on YouTube (get a grown up to help you)
https://www.youtube.com/watch?v=jqpFjsMtCb0
If you are in Years 4, 5 and 6 you have learned about writing Haiku poetry already.
This is a Haiku by the most famous poet in Japan – Matsuo Basho – he wrote this nearly 400 years ago:
How many, many things
They call to mind
These cherry-blossoms!
I wonder if you can imagine what he saw and what he meant?
Best wishes
Mrs Whitehead