A Week in the Woods - Spring 17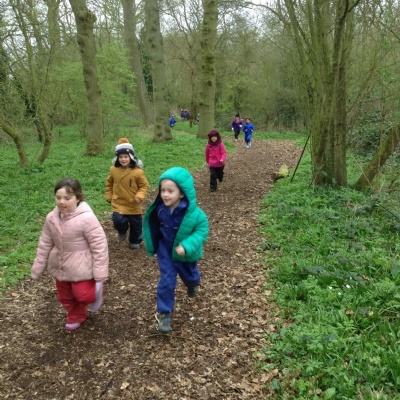 Richard Wightman joined our reception classes for 'a week in the woods' to see how the change of environment and activities benefits our children
Mollivers Activity Centre in Bromham is the location for a termly week of outdoor learning for children in our reception classes. I had the pleasure of assisting the teaching staff for four out of the five days of the 'week in the woods' in March.
I was presented with a comprehensive information pack in advance. It included a detailed risk assessment, learning objectives and schedule of activities. Whilst the planning was meticulous, there is a readiness for flexibility depending on weather conditions.
The novelty of time spent out of school resulted in 60 very excited children on the Monday morning. Activities early in the week included a seasonal nature walk around the site to get the children familiar with their surroundings, creative tasks such as making bats (the flying variety) and simple science experiments such as finding things that sink and float.
Whilst safety is paramount and the site is secure, children are encouraged to manage risk and explore with a partner. By the end of the week, even the naturally cautious children were venturing off the beaten track, wading through the undergrowth and climbing and balancing on the trunks of fallen trees. The finale to the week is a campfire where the children collect firewood, eat the cakes that they'd made the previous day and sing songs. All supervised, all safe and all good fun.
Most of the children were engaged and enthusiastic throughout the week. It was interesting to learn that some of the most curious and adventurous children who were excelling outdoors, don't always perform as well in a classroom environment. The week provided a lot of evidence to support the idea that new and different experiences keep children stimulated and excited about their education.
One observation that I think would be worth consideration for parents and teachers is the low level of fitness of some of the children. Some had the sort of boundless energy that I would normally associate with 4 and 5 year olds, while others could barely muster a brisk walk when required to move quickly around the site. Perhaps it's worth looking at http://thedailymile.co.uk/ (or something similar) to improve the health and wellbeing of all children in school.
I'd like to praise the efforts of the Early Years team for devising and delivering a very useful learning programme incorporating outdoor activities. It clearly takes a huge effort to organise, but the benefits to the children in building confidence, social skills, teamworking, risk management, fact-finding and problem-solving are invaluable.
I loved it.