Site Maintenance Update - April 2017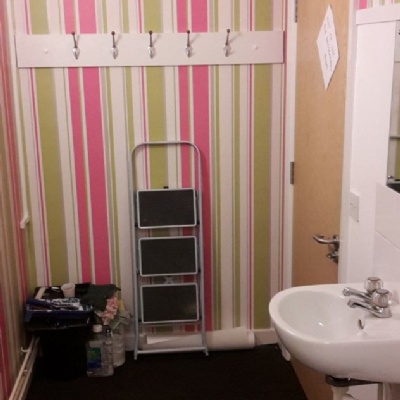 Time to smarten-up the school building.
I thought I'd kick start the Governor News section of the website with a summary of what I've been doing at school in the last few weeks.
For a long time, governors have praised the quality of teaching and management of the school, but with tight budgets, we've not been able to invest as much as we would like in the school building. A spell of gardening leave between jobs gave me a few spare hours during the week to see if I could help with site maintenance.
The amount of work required to keep the school in shape is astonishing. There are basic tasks such as locking and unlocking the school, setting up the hall for assemblies, changing light bulbs, raking leaves and fixing wobbly toilet seats. In addition, I've dismantled, moved and reassembled a shed, built a bike storage shelter for a reception class, re-roofed a dragonflies shelter, made a fundraising thermometer, sanded and varnished the staff room table, decorated the visitors' toilet and scrubbed several carpets to removed stubborn stains left by trodden-in modelling clay.
I hope I've made a difference but there's so much more to do. We are searching for a part-time Site Agent. Someone who has 15 hours per week to help keep the school building in good order. If you, or someone you know would be interested in the position, please contact the school office. If you've got some useful DIY skills, don't mind getting your hands dirty and you can handle banter with about 300 delightfully cheeky kids, you could be perfect for the job.
Richard Wightman
AKA: Darth Vader, Bogdan, Bob the Builder, Joe's dad, Richard, or (very occasionally) Mr Wightman
Community Governor