GREAT BRITISH BREAD OFF!!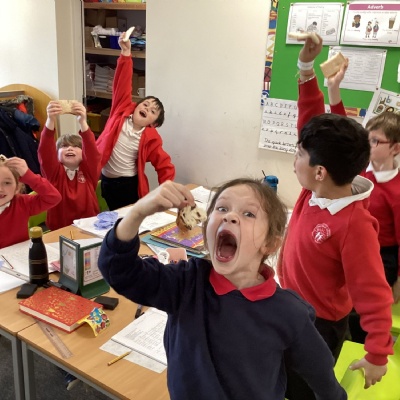 In Design Technology this term we will be making our own bread rolls. We have been learning about the history of the Warburton bakery, understanding the products that they make and thinking about what we could make.
As part of understanding the products that already exist, we had an afternoon of taste testing! We tested half and half, milk roll, seeded batch and fruit loaf with raisins and cinnamon. Some of us even tasted brioche! Views were very mixed with fruit loaf and milk roll being the clear favourite with both classes and seeded batch was the least popular. Some of us thought that the seeded batch was bitter, smelt funny and had an odd texture with all the bits. Comments about milk loaf ranged from sweet, wet, and boring. Whilst some children did not like raisins, they did enjoy the fruit loaf and how sweet it was!
Having tasted some products allowed us to think about what new bread we could create, the different flavours we could use and consider where the gaps in the market could be.
In the next couple of weeks we will be learning how to shape dough into different formations and then will be baking our own bread rolls. We can't wait to share these with you!#
Have a look HERE at some photos of our lesson!