WELCOME TO YEAR 3!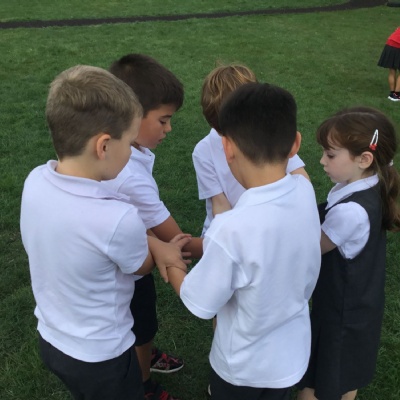 It has been lots of fun settling in to Year 3.
We spent the first week getting to know our teachers and each other by doing some fun, ready to learn activities.
On Monday we discussed our heritage and talked about where we and our families come from. We learned about the flags from these countries and then we made a shield showcasing our heritage and our likes and interests.
On Tuesday we created a portrait puzzle. We had to learn to draw in proportion and then the portraits were cut and muddled up to create a giant puzzle.
On Wednesday we did team building activities, improving our communication and friendships within the class. We played the human knot game, which was tricky and very funny and we played classmate bingo!
On Thursday we did a science activity that involved using lollipop sticks and elastic bands to make a catapult!
On Friday we made cheesecake in a pot! It was delicious and very simple to make although we would have like to use an electric whisk!!!!
In English we have been reading the story of the Stone Age Boy. In this book the main character, falls and travels back in time where he meets a girl called Om. We have been acting as if we are the characters and created some freeze frames, showing how we felt at different parts of the story.
In maths we are recapping place value and learning to read and understand 3 digit numbers.
Year 3 has been lots of fun so far and we are looking forward to the year!
Have a look HERE at some photos from the first few days :)