CHARLIE AND THE CHOCOLATE FACTORY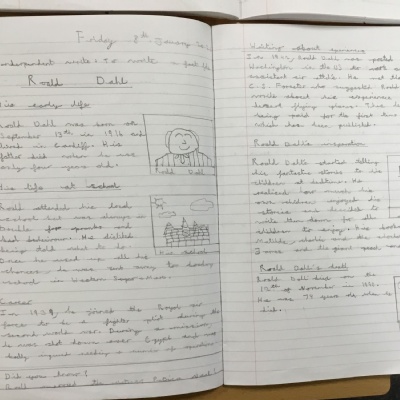 Year 3 have been up to a lot of things after Christmas. We have been looking at Charlie and the Chocolate Factory where Mr Willy Wonka is about to open the gates of his factory to 5 lucky children.
We have written about our own chocolate palaces, completed descriptions of the characters and described their feelings. Now, we are working on our own adverts of golden tickets. We have been reading the book Charlie and the Chocolate Factory chapter by chapter and answering questions on it in Guided Reading.
I am really looking forward to reading the rest of the book and writing more about different characters. It will be interesting to see which characters are the Golden Ticket winners. I think Charlie will get a Golden Ticket but I don't know how, as he only gets Wonka bars once a year (on his birthday).
By Satyaki