CANOE TRAIL AND S'MORES!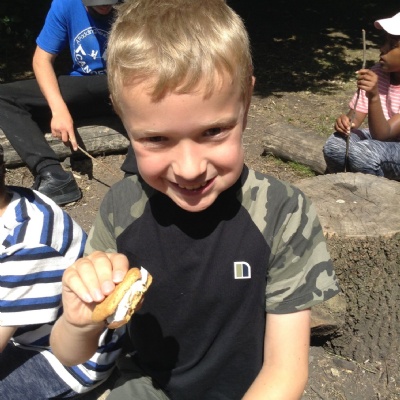 Last week, year 3 went on a trip to Willington for a canoe trail!
We packed spare clothes, sun cream and sun hats so we knew we were in for a fun packed, sunny day!
Throughout the day, we had 3 activities. Water sports, bush activities and team games.

For the water sports, some of us were on paddle boards and some of us were in canoes. We played lots of games standing up and jumping (!) on the paddle boards, we had splashing competitions and some of us even jumped in to the river! We soon dried off in the sun though.

For bush activities, we were taught how to light fires and how to shape our carefully chosen sticks into points with knives so we could toast marshmallows! We made s'mores and they were delicious!!

During the team games, we had to spot each other whilst balancing on elastic tied between trees. This taught us to be responsible for the safety of our partners. We also did an activity where we were blindfolded and had to find our way around part of the forest, following a rope. We had to communicate really well to help our team mates find the way. There were some other team games involving a melon, sticks and rope!

We had an absolutely fantastic day! It was action packed, the sun was shining and there was even a camp dog DeeDee that roamed around!

And those of us who were lucky enough to visit the toilet... well, that's a different story!
Have a look HERE for some photos of our day!