Our adventures in Bromham Woods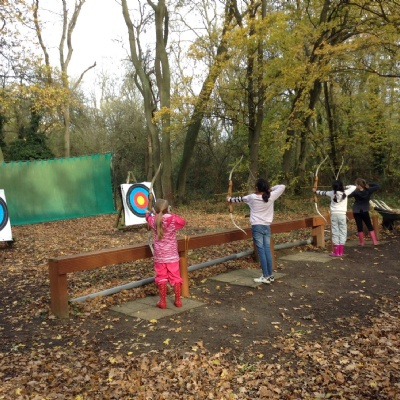 We have had an exciting term so far, studying our topic 'Into the woods'.
A few weeks ago, we went to Bromham for an outdoor day to discover and explore the fabulous woods!
We had different activities throughout the day which were archery, a scavenger hunt and den building!
During the scavenger hunt, we had to work in groups to find different animal homes and shelters on our tick list. We explored all over the woods, searching high and low for burrows, nests and other animal homes.
For archery, we had a professional to teach us how to use a bow and arrow so we could aim, shoot and FIRE! Just like Robin Hood and his merry men!
During den building, we used our imaginations and creativity to use all sorts of materials such as branches, logs, leaves and even palettes to create our very own dens! Working in teams, we had so much fun coming up with ideas of how our dens would look, and what would be the best materials to use!
Then, just when we thought the day couldn't get any better ... we found a letter from Robin Hood stuck on an arrow in a bush!!
He told us he was really proud of our team work and working hard together, as that is one of the most important things he looks for with his merry men!
We had a fantastic day! Please have a look through the photos here to see for yourselves!