OUR YEAR!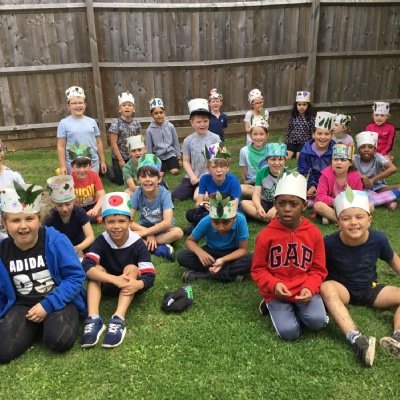 We have been reflecting on our year and we have thought about all the things we have enjoyed.
Sam reflected that he has enjoyed creating lots of abstract art.
Joseph said he enjoyed playing Danish Long ball.
Asa and Berkin enjoyed playing football.
Angelo enjoyed making art sculptures outside based upon Richard Long.
Isla and Bea have enjoyed Outdoor Learning Morning especially making the bird feeders and making the crowns.
Milena has enjoyed learning about the history of space travel.
Lily has enjoyed art and learning about Miro.
We have also been thinking about what we are looking forward too.
Isla said she is looking forward to learning more about Mrs Hubbard.
Theo said he is looking forward to taking part in fun activities.
Benny is looking forward to making kites in year three.
Henry R is looking forward to moving up to Key Stage 2 with Mr Ramsden
Eva said she is looking forward to a brand new classroom!
This week we are sewing our bunting, so keep your eyes peeled for this coming home.
The year 2 staff would like to thank everyone for all their support during another tough year and we hope you all have a lovely summer.
Take care and have a lovely summer!