BIRD FEEDERS, PLANTING AND MORE MUD!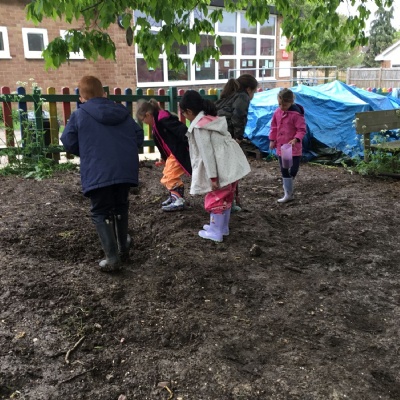 On Monday 17th May we had our Outdoor Learning Morning and the rain did not stop us having lots of fun out in the garden with the fabulous Mrs Griffin.
First, we did some planting of marigolds and parsley, learning how to roll the roots in our hands before we plant to help them relax and take to the soil and then we planted our little cress pots, which we can't wait to grow and eat!
Next, we made bird and squirrel feeders using apples and sunflower seeds, cherrios and pipe cleaners and hung them around the garden to help feed nature!
We also were able to have free play where we explored the mud kitchen, the bird hide, the music arrow and our favourite area the tyres! We had so much fun playing in the squelching mud, making our own versions of George's Marvellous Medicine and some delicious, yummy mud pies! We worked together to support each other on the rope swing and to create some lovely music on the music wall. We found lots of snails, worms and spiders in the garden and thought carefully about their habitats.
We had so much fun and we want to say a huge thank you to Mrs Griffin for helping us enjoy our brilliant outdoors area in school! Thank you!
Have a look HERE and HERE for some lovely photos from our morning :)