CROWNS, FRIENDSHIP AND OUTDOOR LEARNING!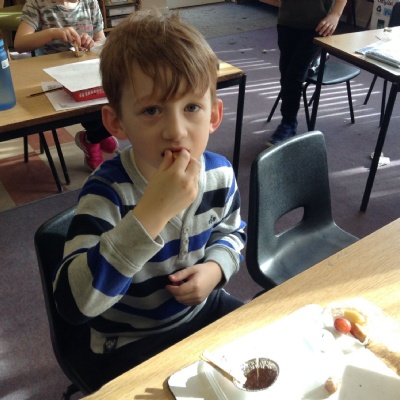 We are super excited to have everyone back together! We have missed you all so much and cannot believe how much you have grown and changed!
This week we have had our Outdoor Learning Morning with Mrs Griffin. We melted chocolate over a tea light and we dipped fruit, marshmallows and fudge into the chocolate. This was very exciting! We also made some fabulous crowns using leaves and feathers. Some of us took part in a colour hunt outside on the field and some of us were able to explore the Robins garden. It was a fantastic morning and we all had lots of fun working as a team.
In class, we are thinking about friendships and really discussing the value of the month 'Kindness'. We have been thinking about what makes a good friend, how we can be a good friend and what we can do if someone is not being a good friend. In PE, we have been taking part in Outdoor Adventurous Activities. We had so much fun using our bodies to create letters, throwing the ball and passing the hoop over our bodies. We can't wait to see what else this term brings!!!!
Have a look HERE at some photos from this week :)