VISITORS IN YEAR 2!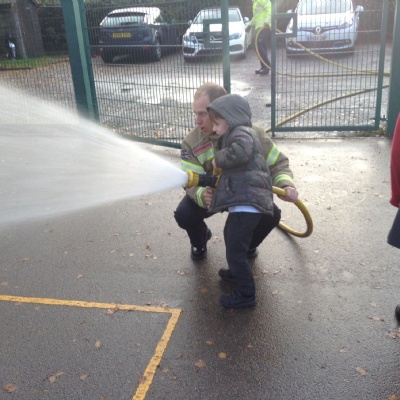 Ben, Bill and Steve came to visit us from Bedfordshire Fire and Rescue Service. We learnt that it is not safe to be near fires and if there is a fire we should get out of the house, stay out of the house and call 999. When we call we need to know our address, so if we don't know, we need to learn it at home.
The fireman gave us a homework task to complete… we must go home and check if we have a fire alarm, we need help from our adults with this to help us be aware of where they are. We also learnt that we need to crouch down low to get out ,if we were in a fire, because heat rises and it makes it harder for us to breathe. We also learnt that it is smoke that harms us not just fire.
We watched a video about Frances the Firefly and we learnt a poem:
Matches, lighters never touch,
They can hurt you very much.
We also learnt about their uniform and the equipment they have. Did you know their shoes have metal in the toes so that if something drops they don't get hurt. On their knees are knee pads so when they crouch down they don't hurt their knees. The trousers, called leggings, protect their legs and they have braces so they don't fall down. They wear a tunic, which is a coat, to protect their body. They have a helmet, goggles and an air tank to help them breathe. If they are distressed in a fire, they press an alarm so that someone comes and helps them.
We went outside and we sprayed the hose to see how it feels to put out a fire. We all had a go and you can see the photos HERE. Afterwards, they sprayed us and it was funny. Then we had a photo taken in front of the fire engine.