YEAR 2 FABULOUS FINISH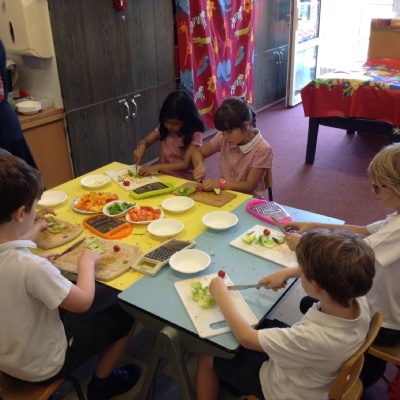 We had a great time at our Fabulous Finish picnic.
To prepare for the picnic we designed and made a salad bowl for our grown ups. We could choose from spring onions, lettuce, tomatoes, carrots, cucumber and peppers. Some of us put a bit of everything in ours and some of us just chose to put a few bits in that we knew our grown ups liked to eat. We also had to design and create our own bunting that we used to decorate the playground and cooked our own honey biscuits.
Our grown ups came, with their blankets to sit on, and got us from our classroom and we took them out onto the playground where we had juice and cake as well as the food we had made them. There was a lovely atmosphere while we all enjoyed our food and drink.
After we had finished our picnic we took our adults back to the classroom to look at our books.
We really enjoyed the afternoon and hope that you did too :)
Have a look HERE for some photos from the day.