YEAR 2 HAMERTON ZOO TRIP!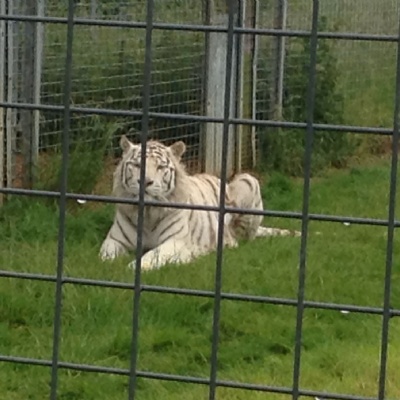 Despite the weather we had a lovely time at the zoo yesterday.
It was a very wet and grey day when we boarded our bus yesterday morning for our Wild and Wonderful trip to the zoo. We saw so many animals including flamingos, meerkats, wallabies camels, tortoises and lots of different birds and reptiles.
Many of the children said that the white tigers were their favourite. The 'white' male 'Blizzard' was born at CERZA in northern France and his mate 'Lady-Belle' came from a circus in Belgium. The pair of 'white' Bengal Tigers arrived from Hodenhagen in Germany in early 2014. These fabulous animals are very popular, and graphics tell the story of this naturally occurring colour mutation from almost mythical status in Indian folk-lore to the reality of the present day. Detail is given about the inheritance of this colour, which is not an albino as it carries pigment in the dark stripes and coloured eyes. Bengal Tigers are the commonest of the 6 remaining sub-species of Tiger, but even so 95% have been exterminated by man in the last century. Seth thought the tigers were mysteries and liked seeing them as he thinks that not many people will because they are so rare!
We saw lots of different types of monkeys and the children especially liked it as they could see them so close. Sam and Eric liked to see them swing about and be cheeky.
We would like to thank the parents who came along to help, these trips would not be possible without you giving your time :)
Have a look HERE at some photos from our visit.