Turrets and Tiaras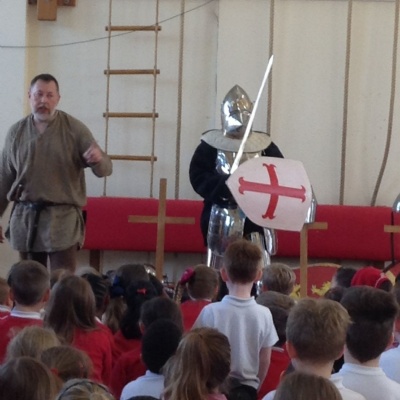 This term we are learning about Turrets and Tiaras! It has been a really busy week so far and we are very excited!
On Wednesday 18th April we had an incredible, amazing and brave Knight come to visit us in Key Stage 1. In the morning we looked at armour and lots of different weapons. There was a bow and arrow, shields, knives and swords! We even watched Miss Holland dress up as a Knight!
After breaktime, each class had a turn at jousting outside in the sunshine. We learnt that the sharp pole was really a lance and we had lots of fun speeding along, trying to catch the hoops!
After lunch we learnt how to build a castle, thinking carefully about the walls, the structure and about protecting ourselves from the enemy. This was good fun and we learnt lots of new facts. We really liked learning about the murder hole! We then got to use the trebuchet to knock down the castle, learning about gravity and forces.
It was such a good day and we were very pleased that Robert the Knight came to see us!
Then on Thursday afternoon we built the role play areas in our classroom as part of DT. We each had our own sections to design and then construct using a range of materials. We had to work together as a team to build our part and ensure it looked like our final designs. We are all very proud of our role play areas. Feel free to come and look!
You can see more about this week HERE