HERRINGS GREEN FARM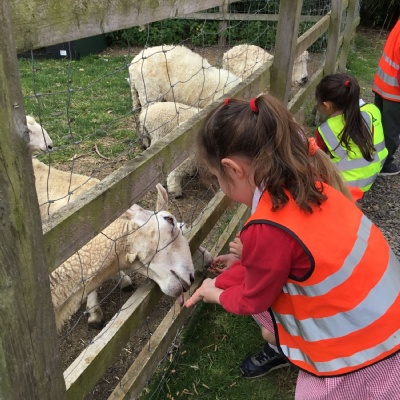 On Monday 4th July Year One had their first school trip. In the morning we boarded a double decker bus that we were all very excited about and went to spend the day at Herrings Green Farm.
Miss Dowsett's group went to feed the hungry sheep, goats and alpacas first, whilst Mrs Parker's group went to meet the cute owls. The farm animals must have been hungry because they ate all the food in the bucket very quickly! We were all very brave using our hands to feed them. We saw different types of owls and learnt some interesting facts about them. Did you know that an owl with yellow eyes hunts in the day?
We then went to sit on the benches and watch the birds of prey show. We had to be super brave again as the birds flew right over our heads! It was amazing!
In the afternoon we got to meet some more furry animals...and some less furry animals including some guinea pigs and a snake! We also had the chance to fly an owl by standing with one arm behind our back and holding the other arm out for it to land on. The owl flew along and landed on each of our arms.
We all had a brilliant time and want to say a big thank you to our parent helpers that joined us on the day too!
Click on the class name for photos from the visit :) SNOWDON EVEREST