WE LOVE PE!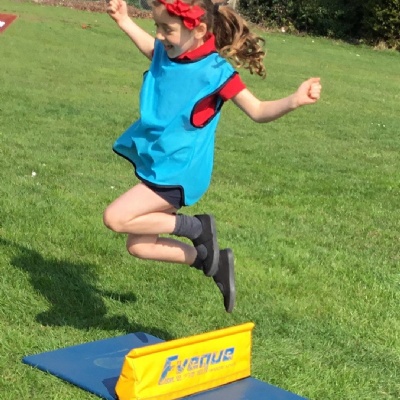 Before Easter we were really lucky to have a training session with SSco. Some older children came to visit us and we had a go at some new and exciting activities.
We were jumping over obstacles, throwing and catching, taking part in running races and even had a go at trying long jump. Year 1 worked really well as a team to cheer on their friends and encouraging everyone to have a go. It was wonderful to see the children behaving beautifully for our visitors and the children received a certificate for taking part! To see pictures from our sports afternoon please take a look in our GALLERY.
We would also like to take this opportunity to remind you that your child/s PE bag should contain the following:
Red t-shirt
shorts
Tracksuit bottoms
Plimsolls
Blue/ black Jumper (outside weather)
Please be aware that without the above clothes your child may not be able to take part in PE activities as we cannot always find a spare kit for them. We do encourage the children to look after their PE kit, however you may want to check their bag from time to time, to ensure that your child has the correct items of clothing and it still fits.
Thank you for your continued support,
Miss Thompson & Miss Holland