We're going on a shark hunt.. We're going to find a big one!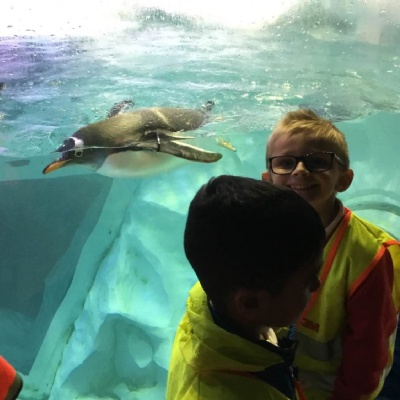 Year 1 had a fantastic time at the Sea Life Centre in Birmingham. We saw so many different sea creatures including sharks, stingrays and the cutest animals were… the penguins!
We asked the children what their favourite part of the day was. In Snowdon class Harley said his favourite part was 'When I walked on top of the clear glass and could see all of the sea animals underneath'. Zahra said 'I enjoyed watching the penguins dive into the water'.
In Everest class Bella said 'I liked the Octopus, it had lots of legs with suckers at the bottom. When I touched the glass, it followed my hand in the tank'. Andy in Everest class enjoyed the 4D experience, he said, 'everything came out of the screen, I tried to touch the fish. We got very wet!'
We even had the opportunity to be part of a 4D experience where we sprayed with water and bubbles. We loved the funky glasses we had to wear! The children behaved brilliantly and there were lots of sleepy children during our coach journey home!
Don't forget to take a look at our photo gallery HERE of our day!
A huge thank you to all of the parent helpers, we couldn't have done it without you!