SMOOTHIES AND TIE DYE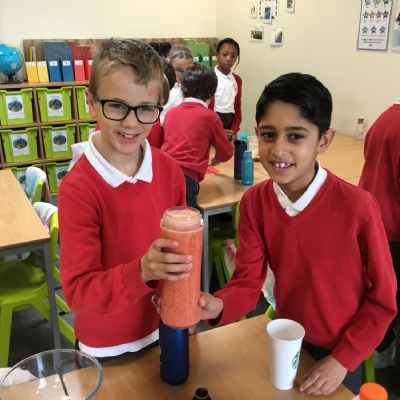 During art and D.T this term, Year 4 have been looking at a range of artists, fashion designers and the seasonality of fruit and vegetables.
Within art, the children have been learning about Vivienne Westwood in the lead up to competing their tie-dye t-shirts. The children researched her in detail, studied her work writing down their likes and dislikes and used a view-finder to focus on specific designs and recreated their own pieces using water colour pencils, sketch and pencils and felt tip pens.
In preparation for their tie-dye, the children researched different techniques such as swirls and marbles and how they could recreate these by folding their t-shirts and tying elastic bands round them. The children had the choice of using all three of the primary colours to dye their t-shirts with and all children chose to use all three as they realized by mixing and overlapping colours they would also create a nice blend of secondary and tertiary colours. The children dipped their t-shirts in each colour for 3-5 minutes and rotated round each colour so their whole t-shirt was covered leaving no visible white on the outer side.
The t-shirts turned out brilliantly and the children were absolutely amazed when they saw their final design.
During D.T, the children have been exploring the seasonality of strawberries in preparation for their smoothies. The children tasted a range of smoothies containing different fruits and completed an in-depth smoothie tasting session where they commented on the appearance, taste, flavour, smell and texture of the smoothie allowing them to choose their own fruits to add to their strawberry base. The children could choose from a range of fruits (apples, bananas and raspberries) to add and could add up to three fruits as well the strawberry. The children worked in small groups slicing, cutting and preparing their chosen fruits before adding orange juice and blending their mixture. The children thoroughly enjoyed making their smoothies and couldn't believe how easy it was!
Have a look HERE for some photos