HILLTOPS RESIDENTIAL VISIT!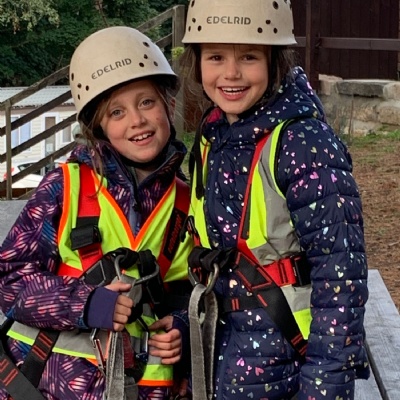 Last week was an eventful time for the year 4 children. Most of the year group went on their first residential and the others had a fun filled week at school creating their own theme parks and completing many fantastic art activities
The children visited Hilltops, Norfolk, for two nights and 3 days and completed many outdoor adventure activities where they were able to challenge themselves on all the activities by choice. The children arrived on the Monday afternoon where they started their first activities, and the fun didn't stop there. During their stay, the children completed the following activities: rockpools, the air jump, tree top trail, the assault course, team tasks and archery. As well as this the children played two-night games, in the dark, before bedtime. The children and the adults were certainly well fed! Breakfasts included a range of cereals, yoghurts, fresh fruit, toast, croissants and even a cooked option including hash browns, bacon, beans and scrambled eggs. Lunch included either jacket potatoes with a choice of beans, tuna or cheese and salad and even a delicious pizza on Wednesday with pudding! For tea, the children had fish and chips on Monday, and a roast chicken dinner with all the trimmings on Tuesday. For pudding, chocolate sponge and custard as well as ice cream! All dietary requirements were well catered for.
A little more about the activities…
Rockpools:
The children got in amongst the hundreds of rock pools at West Runton Beach. They re-created their own mini rockpool habitats, so those who discovered the very best of hiding places of some weird and wonderful creatures, could bring them to base for everyone to see. A fantastic few hours at the beach where we could grab a crab and children could be children whilst learning to identify some of Britain's most common seashore creatures. The children were able to find common shore crabs, anemones, squids, lobsters, squat lobsters, scorpion fish and many more!
Air – Jump:
Air Jump is a 16m/52ft jumping tower with various height platforms to individually jump off before free falling into a giant air bag. Air Jump had several different height levels to choose from. Two were fun level platforms at 4 metres (13ft) and 5 metres (16ft), three high adrenaline jumps at 7 meters (23ft), 8 metres (26ft) and 10 metres (33ft). All children, including Miss Lowdon, challenged themselves in jumping off the various heights, some even made it to 8 meters! INCREDIBLE!
Tree Top Trail:
We were told that the tree top trail is one of the most loved activities at Hilltop and it consisted of a variety of bridges, walkways and obstacles, up to 10m high. Children took responsibility into their own hands by clipping themselves in around the trail with the guidance of instructors and they have in place a specific device which allowed the children to be completely safe at all times but enjoy the freedom and responsibility of taking responsibility around the tree top trail. It was amazing to see so many children complete this independently whilst cheering on their friend and teacher.
The Assault Course:
The children got muddy and wet completing the woodland team assault course. They were swinging on ropes, swinging over water and clambering up log walls throughout the thrilling assault course. A Great teambuilding activity which was perfect for the year 4 children!
Team tasks:
This activity session encouraged children to work as part of a team to figure out a variety of different activities including physical and mental problems which invited the children to use their imagination. Children were spilt up into groups and solved mystery tasks set around the Hilltop Grounds. This task was great for breaking the ice, thinking outside the box and displaying tactical awareness.
Archery:
The children became Robin Hood or Maid Marion here! They grabbed a bow and arrow, shot and aimed at the targets! The children enjoyed the archery onsite at Hilltop in the top field and was perfect for developing control and learning new skills and technique and in time see how many balloons they could hit!
For the adults, it was particularly inspiring to see all of the children challenge themselves in their own individual way and, as a whole, we are so proud of every single one of them for what they achieved last week. Whether it was their first trip away from their parents, conquering their fears of heights of challenging themselves physically when they never thought they could!