YEAR 4 CANOE TRAIL TRIP!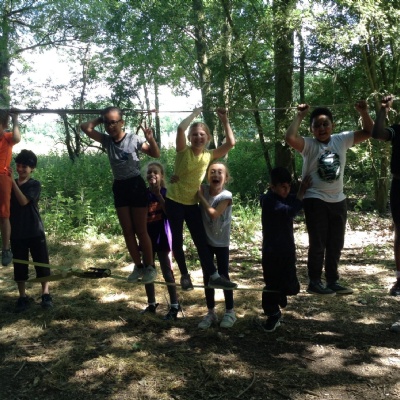 Year 4 had a fantastic day in Willington last week at the Canoe Trail!
4J wrote a recount of their day:
We left school with high spirits for our trip. We walked through big fields with long grass to get to the camp. As soon as we arrived, we gathered by the huge campfire. We settled in by taking part in some trust activities. We had to help our friends balance on the ropes so they did not fall off and then we took part in a night line in which we were blindfolded and feel our way, overcoming lots of obstacles.
Our next activity was den building! One group fitted 21 children in their den! We collected many sticks to create the main structure of the den. We then added leaves and moss to cover it and make it camouflage.
Our final activity was the water sports! We boarded the paddleboards and canoes (do not worry- we were in life jackets!) and set sail. On the water, we copied our instructor and had to sing a crazy song with actions! We all got the chance to jump in the water and it was really fun!
Have a look HERE for some photo's from the day!