YEAR 4 RESIDENTIAL TRIP!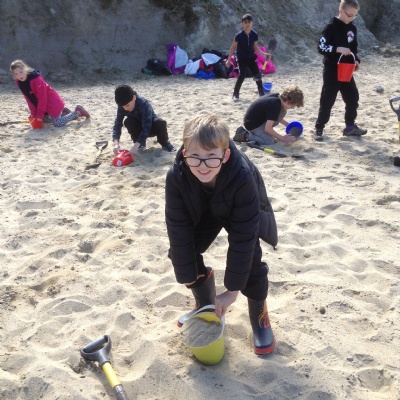 We had the best time on our residential to Norfolk! We stayed in 'Sea View house' and we really did have a sea view! We could see it from our dining room!
We had delicious food like fish and chips for dinner and it was really fun sitting with our friends. We did lots of activities such as: the tree top trails, the super swing, the assault course, team building games, the zipwire and we spent some time on the beach learning about erosion! We made a mini model village and then made a huge flood! We also played games in the woods after dinner like mad hatters and enchanted forest. We had such an amazing time! We made new friends, learnt new things and stepped out of our comfort zone!
Sukhraj said his favourite part was the super swing. "It was really fun and enjoyable because I love heights. I liked sharing a room with my friends as well." Toby and Tyler loved it too. Toby enjoyed the super swing because "I loved the tension before the big drop! The games room was lads of fun and the food was delicious." and Tyler added that although the swing made him feel a bit sick he absolutely loved it!!
Scarlett enjoyed the beach, "I liked collecting sand to make the cliff and building the model village. I also enjoyed playing the night games because it was fun to play new games I hadn't played before."
Lani and Seb both enjoyed the tree top trail. Lani liked the high ropes because when she walked across the bridges they wobbled which made it really really tricky to walk across them but liked the challenge as it was fun!" Seb said he felt it "expanded his comfort zone which would give him more confidence for the future."
Romea liked the trust games because "I trust my friends even more and it was fun directing each other in blindfolds. We were wearing helmets so we couldn't get hurt." Emily's favourite activity was the zip wire, especially as you could do it blindfolded!
Have a look HERE for some photos of our time away!