BCS Cyber Challenge 2022 – Our trip to the Finals (Presentation Afternoon)Cranfield University, Bedfordshire.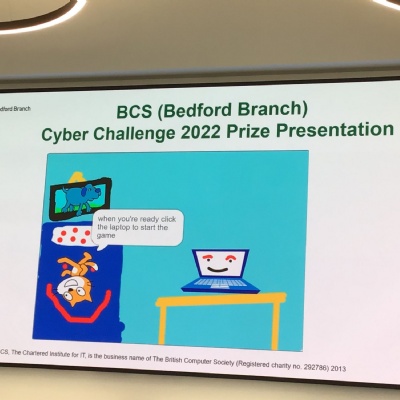 This year the BCS Cyber Challenge was able to return to its normal timetable. Once again, applications from Years 5 and 6 were invited to enter the biggest local Coding competition covering Bedfordshire, Buckinghamshire and Milton Keynes.
This time we had twelve pupils enter with an equal spread of girls and boys. I was so happy that we had some female entrants particularly as coding and programming is heavily dominated by the male workforce.
With twelve weeks of independent Scratch coding and design and creativity ideas used up, after school workshops ended and resources submitted in June for judging, it was time for us to go to the Finals Presentation afternoon at the home of Aeronautics, Cranfield University, a university specialising in science, engineering, design and technology. This year it was hosted in a brand new building dedicated to Technology and Computers. The wide screen Interactive board was much bigger than mine in the Computer Suite!
We all sat down in our group and waited. I was thrilled to see previous pupils of the Hills Academy, Alex (now year 9) and Tommy (now year 7) entering from their Secondary school and talk to their Head of ICT who is one of the judges.
After an introduction by Ip-Shing Fan, the organiser of the event and lecturer at the university, they showed some examples of resources made by children. Imagine our surprise when the first resource shown was by Avni and Daisy! Their faces were a picture, along with all of us watching. Fan explained what he liked about the resource and talked about the coding.
There were more examples shown for each year group (Year 5 through to 10) and then it was onto the actual results. We all were so nervous!
Fan started with year 5, and in 3rd place was Seb! His face was absolutely one of total disbelief and such a joy to see, as he had changed to work independently halfway through our workshops and had to do some working on his project from home. However, myself and Miss Starr were leading the applause. What a great start! Next up was the announcement for 2nd place…… Up he went for his medal and trophy award from a special guest of the University Lecturing team.
And the Hills Academy did it again! Avni and Daisy scooped the place with a great resource story based around a wizard teaching a girl about Online Safety! What a fantastic achievement not only for them, but the fact they were girls as well made it even better! They went up and graciously received their awards, pausing for photographs of course.
First place in year 5 went to another school.
Next we moved on to Year 6 Presentation of awards, and with only a couple of entrants this time, we held our breath nervously…..
"The winner of 3rd place goes to …. The Hills Academy!"
This time the award went to Alfie, but he was not with us so Kayla went up to collect his award on his behalf. We all applauded really loudly! How fantastic to get in the final three with only two entries. How amazing!
Second and First Place went to another school, but we were ecstatic with our own achievements and of course, I was so proud of them all!
We all then had a break for refreshments for the children and teachers, before starting the second part of the presentation afternoon. Usually this is where they organisers plan some technology activities for the children, but this year as they were in a brand-new building, we all had a tour. The highlight of the tour was to get up close and personal with a Boeing 737 which the children were very excited about that!
We were led down onto the side of the runway after our safety talk from Fan, and he began telling us about their work, the acquisition of the Boeing Aeroplane and what it is being used for. Photo opportunities were taken to stand by the plane right next to the engine (removed as plane is now stationary), and there was a lot of "wow", "oooo" and "ahhh" moments from the children.
The children learnt about the aeroplane, how old it was, when it was first made, how it was being used and were able to ask questions about the working environment. After that, we went into a research laboratory which specifically caters for programming and maintenance of planes using robotics. On the large screens, we saw a very small robot that we were told had a job of driving all around the plane to check for faults. The man giving us the tour was part of the aeronautics team and explained to us how robots were used for every part of aeroplane maintenance. The children listened fascinated at how robots so small were used to go inside the wings to check for damage and by using little cameras attached, they could report these images back to the technicians and these could be repaired.
Again, no holding back on the questions, the children wanted to know the ins and outs of everything. Such fantastic representatives of the Hills Academy!
After the tour, it was sadly time to leave with our group of children were tired and eager to get home to share their good news about their day with their grown-ups.
We took as many pictures as we could during the afternoon, click HERE to see them.
Mrs Williams