CODING!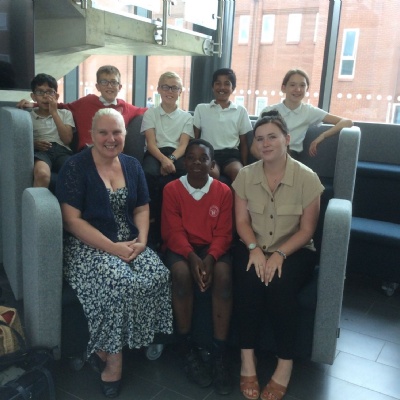 Well, another busy year has nearly passed us by and before we knew it, we received an invite to the BCS Competition 2019.
This is a school competition for young Coders in Years 5 to 10 throughout Hertfordshire, Buckinghamshire and Bedfordshire, and this was our second year of entering it. Last year (being opened to Year 5's for the very first time) one of our teams came away with a "Highly Commended" shield for Key Stage 2. Could we improve on that?
A small group of avid coders from Years 5 and 6 gave up 2 hours a week after school to meet in the ICT Suite with myself, where they were required to make a resource using Scratch to promote their category. Year 5 had "Online Safety" and Year 6 had " Dealing with Cyberbullying".
Year 6 - Team 1 Alex & Leah Year 5 - Team 1 Arya
Team 2 Oliver, Arun & Mustafa Team 2 Quadri & Ryan C.
The ideas they had were fantastic! Watching them develop, eagerly awaiting the completion of their resources to send off to the judging panel was really testing my patience! They were sure-fire winners in my book!
Finally, we sent them off and were invited to the "Finals Day" which was being held at Cranfield University last Thursday 11th July.
A 25 minute trip and all of us except for Arya and Ryan (who were on another school trip) with the addition of Miss Tyrrell, arrived excited for the afternoon ahead. With a few nerves and quiet confidence, we sat waiting. Fan Ip-Shing, the organiser of the event introduced the event and suddenly we were off. Year 5 category first, Quadri got up and gave a demonstration of his game. Applause. It looked good! Next, the Year 6 category and Alex and Leah started it off, followed by Oliver, Arun and Mustafa. Applause. We sat watching all the other entrants demonstrate their resources, applauding each one until Fan stood up again and told us he was announcing the winners! We all held our breath...
"The award for Highly Commended in Year 5 goes to The Hills Academy". Quadri and Ryan had been awarded the big shield much to Quadri's delight. Medals and shaking hands with the sponsors of the event, Bedfordshire Police Cybercrime Unit, were given and Quadri collected a medal for Ryan as well.
Well that was one award, could we get any more? The Year 6's excitement rose, whispers of "It's us", "we can do this" started to capture the teams confidence.
"In Year 6, in second place, The Hills Academy!" Wow! Oliver, Mustafa and Arun excitedly went up for handshaking, medals and photos. A superb result we all agreed. There was still another trophy left. We all held our breath....
"The first place in Year 6 this year goes to... The Hills Academy!" Yes! We did it! Alex and Leah looked shocked but elated as they went up for their trophy, shaking hands with the sponsors and photos.
What a FANTASTIC acheivement from all the entrants this year! It's a shame that Ryan and Arya couldn't be with us but they weren't forgotten in our team efforts.
Still with excitement in our hearts, we all went to do some code-breaking activities after the remainder of the awards to the other year groups. The children had to decipher the various codes to unlock the safe and claim a reward. It was nail-biting and challenging! All of the children joined together in these activities, helping each other and offering their tips and advice to each other. I had never seen such brilliant team-work! Fantastic.
All too soon 4:30pm came, and it was time to depart with all our trophies and excited children. We arrived back at school, and the children were collected by their parents to share the results of the day with them.
Look HERE for some photos from our successful day!