holes!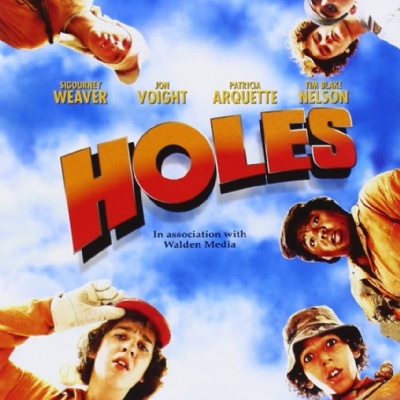 Have you ever felt like you're always in the wrong place at the wrong time? Stanley Yelnats (the main protagonist of the novel) certainly feels that way. And his family blame their curse on their no-good-dirty-rotten-pig-stealing-great-great-grandfather. Written by Louis Sachar, this brilliant novel has been the stimulus for different genres of writing produced by Year 6 over the last term within school.
We won't spoil the ending because the novel is definitely worth a read; however, Stanley is found guilty of a crime that he didn't commit. A pair of shoes fall from the sky and hit him over the head – literally. Talk about being in the wrong place at the wrong time! Stanley is found guilty of stealing the shoes and when faced with the decision of going to jail or a correctional camp for young offenders, he choses to go to camp. He'd never been to camp before – his family never had the money to send him. He soon realises that he perhaps should have chosen jail. He is placed in Group D with Armpit, Squid, X-Ray, Zero, Magnet and Zig-zag (nicknames and not their real names) and they have one job: every day, they must dig a hole five foot wide by five foot deep in the blistering heat of the desert. Because 'if you take a bad boy and make him dig a hole every day, you turn him into a good boy.' That's the philosophy of Camp Green Lake anyway. But Stanley soon realises that the boys are not just digging for character; they are digging for something. And towards the end of his time at camp, for the first time in his life, Stanley realises that he is in the right place at the right time; destiny brought him to Camp Green Lake.
Last week, in preparation for our last piece of writing (a film review), Year 6 watched the film, which is closely linked to Louis Sachar's original novel. Although the movie is an enticing watch, a majority of Year 6 pupils preferred the novel – which highlights Sachar's talent as a writer. After we have produced our film reviews after half term, we will be moving onto our next class novel: High Rise Mystery.
We hope that the Year 6 children will remember reading the novel in their final year of primary school for a long time to come. And we hope that it has ignited an enthusiasm and enjoyment for reading and writing.
Here is what some of the Year 6 children said about the novel:
"I really liked it the novel. The film was different to the book; it was unexpected and had a great impact" – Year 6 pupil
"The story of Holes was fun, interesting and had a good storyline!" – Year 6 pupil
"In my opinion, the book was better than the movie for it had more descriptions of the different characters and settings. However, it was still very enjoyable!" – Year 6 pupil
"The book was really good as it was exciting, with lots of plot twists. In the film, the ending shocked me - it had a brilliant ending!" – Year 6 pupil
"I thought it was good and quite fast-paced, which I like. The plot was interesting and unique." – Year 6 pupil
"My favourite character was Zero, because he was cool and silent but happy internally!" – Year 6 pupil