BLETCHLEY PARK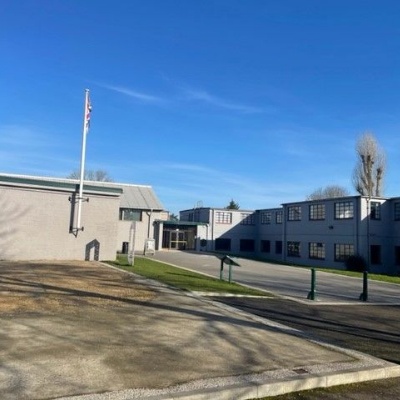 On Monday 7th February, Year 6 went on their first trip in nearly 3 years. We visited Bletchley Park – home of the codebreakers during World War 2. A big thank you to all of the parent volunteers who made the trip possible.
As soon as we arrived, the first activity was a guided tour from a knowledgeable and friendly staff member. Did you know that Bletchley Park was selected as the site for the codebreakers because of the well-established rail networks at the time? Transportation was more difficult during 1939-1945 and Bletchley Park had good rail networks to Bedford, London, Oxford and Cambridge; this allowed workers to be transported into Bletchley Park. The rail networks to Oxford and Cambridge were particularly important: skilled and intelligent individuals from Cambridge and Oxford University could be easily transported to Bletchley Park. The guided tour was concluded with a 20-minute immersive film experience.

After a wealth of information during the guided tour, we took part in an intercepting intelligence workshop, which involved reading and translating Morse Code signals. We were also lucky enough to see a replica of an Enigma machine – Enigma machines were used during World War 2 to disguise communications to keep plans and military tactics classified. The work of Alan Turing and other brilliant individuals at Bletchley Park allowed the Allied Forces to intercept and decode these communications, giving them the advantage in the war; this would eventually lead to victory.
Following the intercepting intelligence workshop, we explored the Bletchley Park site. Within Block B, there was a museum full of historical artefacts, including actual Enigma machines used during the war that are still intact. In Hut 11, there was a replica on the Bombe Machine; this was the machine designed and built by Alan Turing and other individuals at Bletchley Park that could decrypt secret German messages sent during World War 2. There was also a garage showcasing different vehicles used during the war and various other huts, which provided office space for workers brought into Bletchley Park every day.

We wished we had more time and our trip to Bletchley Park only scratched the surface of the huge World War 2 topic. Some of the Year 6 children said the following about the trip:

'I think it was quite good and I quite enjoyed looking around the mansion. My favourite part was seeing the Enigma machine.'
'It was very exciting and I liked that we had little activities to do. I liked seeing the mansion and I liked viewing the Enigma machines.'
'I liked knowing about how many people were actually doing it because I didn't know before and my favourite part was looking round the mansion.'
Have a look HERE at some photos of the park.