lets get creative!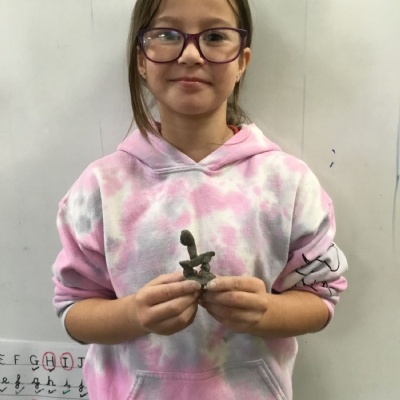 This term, in art, we have been looking at various artists: Henry Moore, Hung Liu and Alberto Giacometti.
Henry Moore is an artist most famous for his bronze body sculptures. These are abstract sculptures, which mean they focus on showing emotions or shapes rather than being real. Many people think that the wavy, rolling shapes in his sculptures are supposed to remind us of the landscape of Yorkshire, where Henry Moore grew up. In class, we attempted to create some sketches in the similar style to Henry Moore's sculptures. For this activity, we had a huge red sheet, and we took it in turns for a few children to be beneath it. We focused on the shapes, shadows and formations their bodies made beneath the fabric and completed 2-minute sketches in different positions. This allowed us to focus on the tones and shading, rather than on the actual 'body'.
"I enjoyed when someone went under the blanket and we had to sketch them concentrating on the shading and silhouettes of the body that is distorted" – Ruben.
We have also looked closely at Chinese artist, Hung Liu. She is known for paintings based on historical Chinese photographs. Her painting style washes and drips down the painting, making them really interesting. We have had a go at sketching some of her work and discussing them with our partners. Another artist that we have focused on this term is Alberto Giacometti, a Swiss artist. Giacometti experimented with different art styles, such as Surrealism and Cubism. As well as painting, Giacometti specialised in sculptures. His sculptures are well know for their long, thin appearance. We used clay to try and create our own Giacometti sculptures, but they could be no more that 7cm (just like some of his!). This made it very hard to add detail; it was a very fiddly process! Click here to see some of our sculptures!
Have a look HERE at some photos of our sculptures.
Below are a few quotes from some Year 6 children about their time in Year 6 so far:
"Year 6 is helping me to grow in confidence and knowledge" – Chloe
"Year 6 feels like a safe home" – Richa
"All the lessons have been fun and creative. I really enjoy PE!" – Austin
"In art, I enjoyed making sculptures out of clay in the style of Alberto Giacometti!" – Ammee
"I enjoy working in order when using BIDMAS in maths!" – Viren