SO BUSY IN YEAR 6!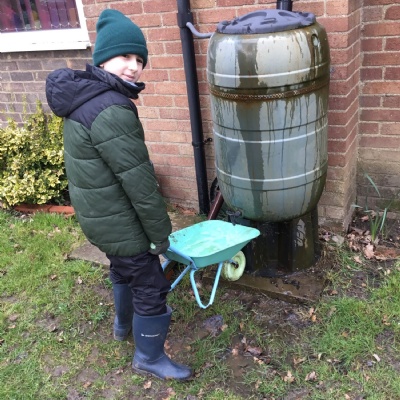 Since our return to school 2 weeks ago, we have engaged in many different activities. On Mondays, we have a 'marvellous Monday' session, where we complete science-based activities. Last week we made noise defenders out of whatever materials we had. Some of us made some brilliant defenders, which actually blocked out sound! Unfortunately, not all of us managed it – but we did have a good old laugh when we modelled wearing our noise defenders. That's the main thing, right?!
We have also participated in team building activities, well-being Wednesday sessions, thought-provoking Thursdays, and fun-filled Fridays. As part of our team-building activities, we have had to work as a group to listen, share ideas, co-operate, and accommodate others. For one of the activities, we had to stack 6 cups, using an elastic band and string; we had to work together to pull the string to stretch the elastic band, pick up the cup, stack it, and then remove the elastic band. We weren't allowed to touch the cups with our hands! Please look through our pictures to see us in action!
Another activity involved us coming up with a new country. We had to decide on the following things, about our country, as a team: name, cultures, traditions, native animals, food, climate, clothing, language and flag. It was a brilliant afternoon, with some fantastic, imaginative new countries! Have you ever heard of a Llama-taxi? No, neither had we, until last week!
During thought-provoking Thursdays, we are given the opportunity to think and discuss certain topics. We are shown an image, and then have to discuss it in groups and as a class. Questions are posed and answered, opinions are shared, and debates are had – this really allows us to be open-minded and consider different viewpoints to our own.
Last Monday, we had our outdoor learning morning. It started off brilliantly, with a grey, but dry sky. However, half-way through the first activity, the rain began to pour! We lasted as long as we could, but unfortunately, we had to retreat back to the classroom. Thankfully, after an hour, the sun decided to come back out, so we put our wellies back on and headed out. During the morning, we had free-play time – which resulted in A LOT of mud, water and worms. We also made s'mores, did an A-Z scavenger hunt, and made art using nature. Have a look HERE for some photo's of our morning.
Our return to school has been really enjoyable. The classroom has a happy buzz to it, the corridors are full of laughter and playground noise fills the air – just like it should! We are so happy to be back surrounded with our friends and teachers.