WHAT A START TO YEAR 6!!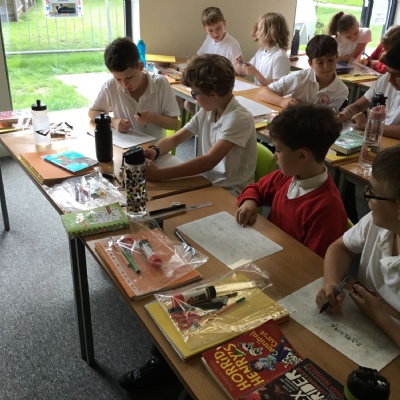 We've had a fantastic start to the year so far. In this blog, we'll tell you a bit about what we've been up to!
In maths, we've been working on our place value knowledge - working with numbers up to 10,000,000! We've been determining the value of each digit, comparing, ordering and rounding.
We have started a new class novel in English. It's called 'Stormbreaker' by Anthony Horowitz. So far, we know that the main protagonist, Alex Rider, is a 14-year-old boy who has just been informed of this uncle, Ian Rider's, death. Alex is suspicious due to lots of strange events that happen around this news. We know, from the blurb, that MI6 are after Alex to join them. But why? How? We are already gripped, and we are only 3 chapters in...
We've written a chapter summary, summarising the first chapter, so far and are currently working on a diary entry. We are working hard to include year 6 punctuation and grammar. Miss Brown and Mr Parker think we've done a brilliant job so far!
In science, we have started with looking at taxonomy and the classification crowns which were developed by Carolus Linnaeus. We now know the main levels of classification: Kingdom, Phylum, Class, Order, Family, Genus and Species.
This is quite a complex topic, but we are slowly getting our heads around it!
We have hit the ground running with our foundation subjects too. We've started looking into The Ancient Mayan Civilisation in history, locating different continents, countries and cities in geography, using atlases and exploring on Google Earth and have begun practising sketching techniques for self-portraits in art.
We have been exploring what positively and negatively affects physical health in PSHE, discussing the importance of staying healthy and how this has a positive impact on us and our mental health too. In RE, we are currently learning about Hinduism – the main beliefs and aims of life.
Our outdoor PE sessions started last week, and they are going to be revolved around studying the different disciplines in athletics. We started by looking at sprinting and learning how to improve our running techniques.
Oh – we almost forgot! We are making our own CAM toys in DT. We've started making some prototypes and when we have finished those, we will complete a design brief, design our own and then make an impressive moving toy! We can't wait!
So, parents and carers, when you ask us what we learnt at school today, and we reply with "Nothing!" … it's simply not true! 😊