STORMBREAKER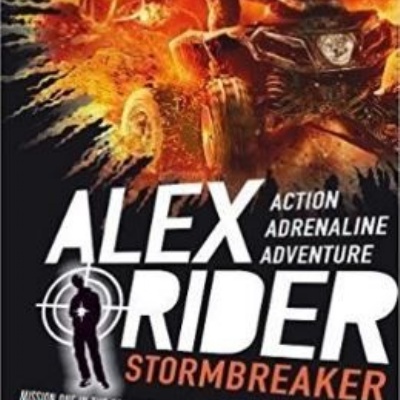 This year, Year 6 are completing a novel-based scheme of work during literacy lessons. Each week, children are reading a chapter of the novel Stormbreaker and then producing a piece of writing based on that chapter
Because a wide range of writing is required during Year 6, children are writing for different purposes each week – they have produced diary entries, chapter summaries, gadget explanation texts, narratives and descriptive pieces of writing so far. Children are also learning how to use a range of advanced punctuation (semicolons, colons, inverted commas, dashes, hyphens and commas) and are attempting to include the full range of punctuation in their writing each week. Enthusiasm for writing has been fantastic during lessons and the children are eager to read the next chapter in the novel each week.
We are currently reading Chapter 8, Looking for Trouble, and we are reading Chapter 9, Night Visitors, next week. The main protagonist of the novel is Alex Rider – a fourteen year old boy who lives with his uncle (Ian Rider) and American babysitter (Jack Starbright). The novel begins with Alex's uncle's death; we're told that he was killed in a car accident. Alex attends his funeral and becomes suspicious: many people who he had never seen before are at his uncle's funeral and he is called patriotic during the ceremony. Alex wonders why a banker – who was barely in the country – is called patriotic at his funeral. Later on in the novel, Alex discovers that his uncle was working for MI6 and was a secret spy. Because his uncle had been preparing Alex to be his successor all of his life without Alex realising (the karate lessons, learning different languages etc), MI6 recruit, or should we say blackmail, Alex to work for them. Alex soon finds himself on his first mission investigating Herod Sayle. Herod Sayle has promised to give a state-of-the-art computer to every primary school in the UK. The computers are known as Stormbreakers. This gift seems too good to be true and MI6 are suspicious of the unprecedented generosity so they send their new recruit (Alex Rider) to investigate. Soon after arriving at Herod's compound in Cornwall, Alex – posing as Felix Lester – begins to suspect that something isn't quite right: Herod's staff are lying to him and he discovers that his deceased uncle (Ian Rider) had actually stayed at the compound before his death. That's as far as we have read in the novel so far and we don't want to spoil any plotlines or endings for the children so we'll stop our short summary there.
Here are some of the views about the Stormbreaker novel and Literacy lessons from the Year 6 children this year:
"It's a really nice book. It gives us lots to do in Literacy lessons and it's really enjoyable." – Aditi
"It's an action-packed book that I really enjoy. I love how we do a piece of writing every week about a different chapter." – Arya
We're looking forward to reading the rest of the novel during our literacy lessons this year and we'll write another blog to summarise the rest of the novel when we have finished. If any Year 6 children are interested in reading more about Alex Rider in the meantime, the author, Anthony Horowitz, has published a whole series of books in the Alex Rider series. Just make sure that no Year 6 children read the Stormbreaker novel before we have reached the action-packed ending during Literacy lessons.