year 6's stunning start!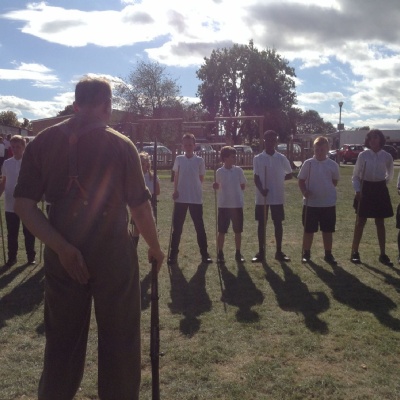 On Thursday, we kick started our topic of World War II with Sir Teach A Lot.
He took us right back to the start; learning how and why World War II began. We learnt about all of the different countries involved, sabre rattling, the inter war economic crisis, gas masks, air raids and so much more!
Many of us got to participate by acting as different countries, different ranks of officer and we even got to dress up in very heavy gear (ask Jed!). We practised using a World War II hose which, believe it or not, took 4 people to use properly! We practised marching in formation with rifles (broomstick handles) and charged at imaginary enemies. The air raid siren was a particular highlight, with children from the other side of the school hearing it and wondering what it was!
We learnt so much information in one day through brilliantly practical activities! We have well and truly had a stunning start to our topic!
Have a look HERE for some photo's of our day.