stormbreaker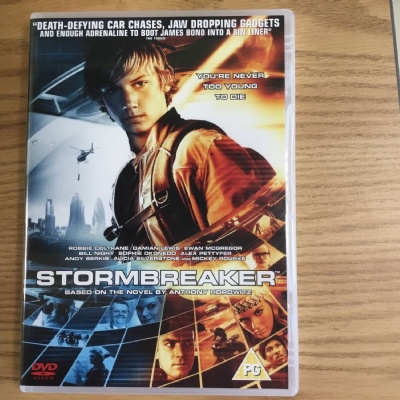 Year 6 have been completing a scheme of work in Literacy based around Anthony Horowitz's novel 'Stormbreaker'. Recently, the children had a screening of the film Stormbreaker at school. The film boasts a very impressive cast: Jimmy Carr, Ewan McGregor, Bill Nighy, Alicia Silverstone, Sarah Bolger, Stephen Fry, Mickey Rourke and many more.
The next piece of writing that Year 6 are going to be required to complete is a film review of Stormbreaker; many different genres need to be covered throughout the year. So far, Year 6 have completed a gadget explanation text and two diary entries whilst imagining that they were Alex Rider (the protagonist) at different parts of the novel.
It's fair to say that Year 6 loved the screening and that the film contained wall-to-wall action from start to finish. From Alex Rider escaping the metal clutches of a car-crushing machine to surviving a close encounter with a Portuguese Man-of-War jellyfish, you just can't look away! Because he was bullied whilst privately educated in the UK, Darrius Sayle is a villain who is determined to make other schoolchildren suffer. And who is the man that bullied Darrius Sayle more than any other at school? The British Prime minister. It's no wonder that Darrius Sayle's plot involves the British Prime minister. The film is definitely worth a watch!
However, there are several differences between the film and the novel. Here is what some of the Year 6 children said when asked whether they prefer the film or the novel:
Daniel: "I prefer the novel - it is more detailed and connects the main parts well."
Mercy: "The film. Although the book had more detail, I like the film because it had music and it brought the story alive and made it more exciting."
Oliver: "I think the book was better because it had even more action than the film. There was a lot of tension in the book."
Jack: "The book because it had more intense parts and you can imagine things how you want to."
Alex: "I preferred the book because I believe the book gave more suspense – especially when looking at parts of the plot. When you read about something you can't always guess what it is. When you see it, it is often obvious."
Have a look HERE for some photos of our screening.