BRYHER RESIDENTIAL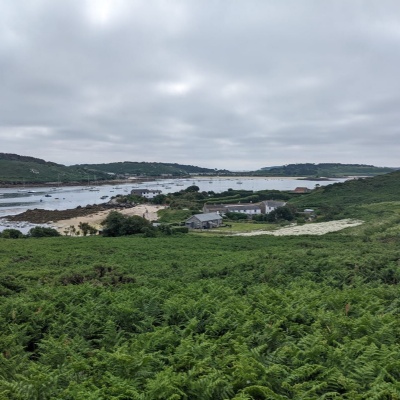 At 9:30pm on Sunday 12th June, the Year 5's gathered on the playground, ready for the most exciting trip! We were on our way to Bryher, located on the Isles of Scilly! After spending a night on the coach, we arrived in Penzance, where we ate our breakfast on the sea front and watched some of the wild swimmers and early dog walkers.
Once on board the Scillonian – the ferry that travels between Penzance and St Mary's, the main island of the Isles of Scilly – we were able to look out of the windows and watch as the Islands appeared on the horizon and we said goodbye to Cornwall. The ferry ride was smooth and we were able to draw, play games such as Uno and chat with our friends. Next, we arrived at St Mary's, where we had to wait for our next boat; a much smaller on called the Firethorn. This would take us to Bryher, a small island with about 75 inhabitants and no cars!
We arrived in Bryher and the weather was glorious! The sunshine was out for us which was lucky as we had lots of luminous orange tents to put up! We worked in teams to pitch the tents and help the teachers set up our kitchen tent and their tents. Now, it was time to explore as Mrs Whitehead fired up the fire pit and cooked hotdogs for us, which were delicious.
Our first day was a highly anticipated beach day! We trekked over to Rushy Bay, where the sand was fine and golden. We couldn't resist any more and went running into the sea for a swim – even the teachers joined us! We had a wonderful day with our picnic on the beach, building castles, digging holes, combing the beach for pretty shells and rare colours of sea glass. We even stopped at a playground that was built by the children that live on the island – we had great fun.
Wednesday was another Bryher day, where we getting used to the morning routine – get up, have breakfast, brush teeth, make our packed lunches and pack our rucksacks for the day. We explored some of the rocks that were near the campsite, such as Pie Rock, which soon became one of our favourite locations. It was then time to say hello to the Firethorn again, which was going to take us on a wildlife trip. We loved being on the boat and we spotted lots of seals – even a baby one sunning itself on a rock- and a variety of seabirds including puffins; they were so cute! After our boat trip, we came back to Bryher and the lovely staff of The Fraggle Rock cooked us a dinner of jacket potato and beans and then we went down to the beach after dinner to play.
On Thursday morning, we got ready promptly and headed over to another island called Tresco. Here, we could see our bright orange tents across the water! We started on our hike to Cromwell's castle, which we spotted on the beach after dinner last night and decided we wanted to explore! The climate in Scilly felt different to back home; it was very hot and humid and there were lots of different-looking plants growing! We made a trail to Cromwell's castle, which linked nicely to our history lessons in the spring term and learnt that Cromwell's army of Roundheads used the bricks from the castle above which was built by Charles I! On Thursday evening we had birthday cake for one of the children who turned 10 in Bryher. The teachers had ordered the cake from an island baker… it was delicious!
We were sad to leave the island on Friday, and the weather reflected our mood! It was time to pack up our things, have a last explore of Bryher and get ready to go home. We had the best time in Bryher!
See below to see what some of the children wrote about our residential:
'I really liked climbing up castles and playing in the ruins.'
'I also liked going to the shops and buying cool stuff.'
'Pie rock is a place where we all got to explore and have fun. It is a rock where you can make memories. The way we got up to the rock was by climbing up rocks and walking through bushes. There is another way to get to pie rock which was to go through a tunnel which had a lot of overgrown plants. Pie Rock is large and it held a lot of people. Most of the people were up there playing games and enjoying the view.'
'We really enjoyed going to Cromwell's Castle and we learnt some surprising things such as the bricks used to make the castle had been taken off King Charles I. We spent time exploring and learning more while looking down at King Charles' castle, the view was quite spectacular.'
'I loved going to the honesty stalls; the best honesty stall was the fudge one which was full of fresh delicious delights such as the traditional vanilla flavour. On the way to the fudge shop, the was a cookie stool which was selling cookies and cakes. Also, right in front the pub there was one that sold pictures and candles.'
'I loved it when we went on a wildlife trip, where we saw seals, Puffins and more! We went around looking at the different sea creatures and we even found a jellyfish! Whilst going past a rock we saw a baby seal lying down on it. It was trying to swim but other seals were protecting it and stopping it.'
Click on the number links to have a look at our albums 1 2 3 4 5