Goodbye Year 5…Hello Year 6!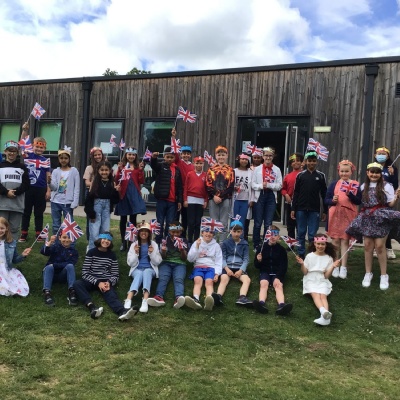 This term, we have been reading the novel, Harry Potter and the Philosopher's Stone and we have absolutely loved it! We're not wanting to include spoilers of the book but the ending gave us all a bit of a shock and we were waiting with bated breath on the edge of our seats to find out what happened to the characters. What's even better, is that for an end of term treat, we get to watch the film too!
Many of our lessons have been based around the book too, such as English where we have written a range of different texts like a job advertisement for a Defense Against the Dark Arts professor, a magical creature non-chronological report, diary entries and suspense narratives. In DT, we have made our own electrical light up magic wands and we are in the process of building a quidditch pitch using cardboard to practice making joins and stable structures.
The novels that we have read in Year 5 (Cogheart, Black Powder and Harry Potter and the Philosopher's Stone) have been amazing and we are looking forward to studying new ones in Year 6!
We have loved being in Year 5, here are some quotes from some of the current Year 5s about their favourite things this year:
Sam: My favourite thing about Year 5 was in Bryher when we jumped off of the rocks into the ocean.
Deividas: The lesson that I enjoyed doing most was PE and when we had science day. I also love computing and swimming!
Marie: In Year 5, I enjoyed going to Hampton Court Palace as we learnt about King Henry VIII.
Trustin: In Year 5, I have loved learning about history and when we learnt about the Tudors and also in art when we sketch or paint.
Dan: I liked PE and Bryher. I also enjoyed reading Harry Potter and the Philosopher's Stone because I had watched all of the films but had never read the books and now I have!
Arde: I have enjoyed DT since we have made loads of actual working things (making a wand was my favourite out of them all!)
Erin: I enjoyed drama activities in our English lessons
Cherry: In year 5, I liked making pizza in DT and science day was fun!
Evie: The best thing about Year 5 was going to Bryher because although I missed my family, I made some friends in 5J and had an awesome time!
Aiden: One of the best things in Year 5 was making Quidditch stadiums
Daisy: I enjoyed making the wand for our Harry Potter topic
Charlie: My favourite thing about Year 5 was DT and making pizza wraps
Toby: I liked going to Bryher and exploring with my friends
Zach: History has been really fun, especially learning about the Tudors and Stuarts. We also had a novel focused on the events in 1605 which I enjoyed.
Simrita: In year 5, I've enjoyed DT as we made pizza wraps – which tasted delicious- and we have been creating Quidditch stadiums.