YEAR 5 RESIDENTIAL TRIP TO BRYHER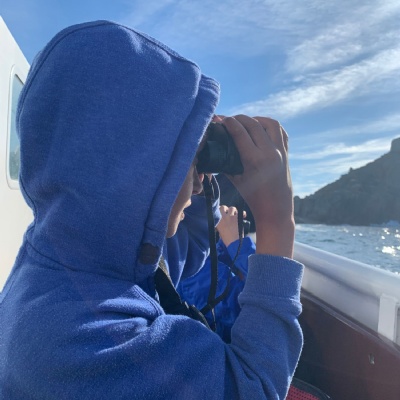 Last month some of Year 5 Went on their school residential to Bryher, a small island on the Scilly Isles. Here is a blog of their experience :)
To start off the trip, we arrived at school to leave at 10pm on the Sunday night we were all very excited for this we have been looking forward to it for ages. We travelled by coach where we were supposed to be asleep but none of could hold our excitement any longer! After this journey, we sat by the sea in Penzance to stop for breakfast before getting on a boat called The Scillonian III to get to the main island St Marys. From there we caught a smaller ferry called The Firethorn which took us to Bryher.
After a long journey we arrived at Bryher at about 4pm where the the tents were up and waiting for us. We unpacked, put up the kitchen tents, explored the campsite and went to The Fraggle Rock for dinner. After dinner we went to the local beach, we found so much sea glass, shells and all sorts of sea creatures like jelly fish, shrimp, by the wind sailors and we even saw some fish!
Each day we would get up and have breakfast and then we had to make our own packed lunch for the day which we would pack into our bags for the day.
A favourite beach of ours was Rushy Bay, a beautiful place with white sand and clear water. We did lots of digging and making sand castles. Lots of the children enjoyed the water and particularly jumping off a rock into the sea.
Mrs Whitehead took us to Droppy Nose Point here we got to see lots of seals that come close to shore, she told us that they like the sound of children and if you clap for them they sometimes appear. We could see their heads pop up out of the sea and it really did look like they were watching us!
We also found a playground made of fishing nets and buoys that the local people had created and really enjoyed spending time playing on it.
We visited Cromwells Castle on Tresco (a neighbouring island) which we could see across the water from our campsite, here is some information if you would like to read about the history https://www.english-heritage.org.uk/visit/places/cromwells-castle/history/ It was strange to think that all the rocks that were used to build it would have to be carried up by people such a long way up a cliff when it was built! After visiting the castle we went for a Tresco made ice cream which was yummy and then to Cradle Porth. Cradle Porth was a beautiful beach, with pure white sand and clear water… it was just the place to cool down!
After our adventure on Tresco we got back on The Firethorn and went for dinner before our evening activities began.
We were very lucky to go on a wildlife trip that The Firethorn were hosting. We donned our binoculars and set off for the evening tour at sea. It was AMAZING, we saw puffins, seals, Guillemots, huge jellyfish and a whole host of sea birds…. Just when we thought it couldn't get any better we saw dolphins!!! They were swimming along in the wake of the boat really close to us, we even saw one doing a jump in the air! When we pulled into the quay at Bryher we caught the end of the island gig race finals and loudly cheered the boats in! That evening we stayed up a little bit later than normal and watched a beautiful fireworks display to celebrate the race and its competitors
We had a wonderful time in Bryher and the sun shone all week. We played, hiked, rock pooled, swam and made some wonderful memories with our friends
Here are some of our thoughts about this magnificent trip!
Siddiqa- I liked Bryher because every day we went to the beach. Also, we went paddling in the sea and saw jellyfish and crabs. At the camp site, we had fun in the tent with our friends!
Mia- In Bryher, my favourite thing we did was going to Tresco on the Firethorn boat to see King Charles and Oliver Cromwell's castle. This is because all of the soldiers and royals from hundreds of years ago stepped on that historical ruin and we experienced this by exploring before stopping for some lunch and a pot of ice cream.
Tony- my favourite thing about Bryher was going to the beach and going on a wildlife trip to seeing puffins, dolphins and seals.
Evie- I enjoyed going to the different beaches and climbing rocks after our delicious dinner!
Sim- From our experience in Bryher, my favourite thing was visiting the beaches as the sea was crystal clear and there were beautiful shells everywhere; as well as this there was sea glass scattered on the sand. At Rushy Bay, there was a huge rock that we all jumped off into the ocean!
Arde- we had a great time going to explore the island. At many beaches, there were lots of crabs (luckily they were harmless) and we even found some Blue Bottle jellyfish there.
Lexi- I thought that seeing the dolphins was very fun and interesting. Can you believe we saw them in the Atlantic Ocean?!
Skylar- I thought swimming under water in the sea was fun (although it was a chilly!) I also enjoyed seeing picking up crabs, finding fish, jellyfish, starfish and even a shrimp at Rushy Bay: I loved spending time with my favourite teachers and friends. Going to the shop with my favourite teacher, Mrs Simpson, was good too.
Sam- my best bit at Bryher was at Rushy Bay. We jumped off multiple rocks and swam in the clear waters. There was sea glass everywhere!
Daisy- I enjoyed going to the beach, playing with my friends and seeing my sister in Year Six on the way back. I loved seeing dolphins too.
Overall, I think everyone that went had a great time exploring and for mostly everybody this was their first time being away (independently) from their parents!
Thank you to all of the wonderful people of the Scilly Isles for sharing their islands with us and always stopping for a chat when we were out and about and also to The Firethorn staff, The Scillonian staff, Tom, Jo and the campsite staff for letting us stay again, Chris, Sue and the staff at the Fraggle Rock for cooking for us, The Bryher shop for providing us with our shopping, the honesty box filler uppers and everyone else who helped to make our stay so enjoyable :)
Have a look at some of our photos by clicking on the numbers: 1 2 3 4 5