HAMPTON COURT PALACE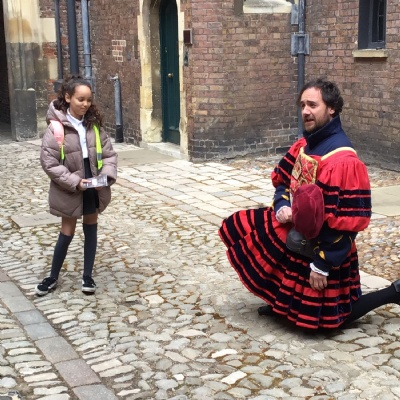 last half term we went to Hampton Court Palace, to start off our day, we had to come to school at 7:30 to ensure we had enough time to look around the palace. We were a bit tired but at the same time super excited! Next, the bus had arrived to come pick us up for the long 2 hour journey but on the way we just talked with our classmates so the journey went quicker than we initially thought it would.
When we got there, we got put into our groups and we all found out some interesting facts in a guided activity led by 'a worker for Henry VIII'. He told us all about what the servants would do and how much they earned which was 4p a day. How rubbish! But, for somebody who worked for Henry VIII, they earned 16p which isn't much better really if you come to think of it! We found out that Hampton court Palace was used for Henry VIII's nice activities and no one was ever beheaded there!
The walls were covered in beautiful tapestries and paintings and there was a chapel in the building which is still used today. In the centre of the building was a square garden filled with multi coloured tulips which is where the royal people would have walked around and even sat and drunk tea.
After that, we stopped off for a break and ate our lunch which was good as we were all so hungry after so much walking and our legs were getting tired! Then, we looked around the rest of the gargantuan place; in the kitchen there was a huge fire which is where all of the meats would of been cooked on a huge fire. There was also a grand hall which is where everybody would eat. This was also where the servants would sleep! Did you know that they slept on a wooden panel and hay instead of a duvet.
Finally, we explored the garden which was humongous, it had a lake and a massive fountain. The trees were all perfect shapes and the grass looked like it was painted on the ground.
It was then time to come back to school so we got home in time. Overall, I think everybody enjoyed the trip (even the teachers) and we learnt so many interesting facts!
Have a look HERE for some photos from our day out.
By Simrita