WHAT A YEAR!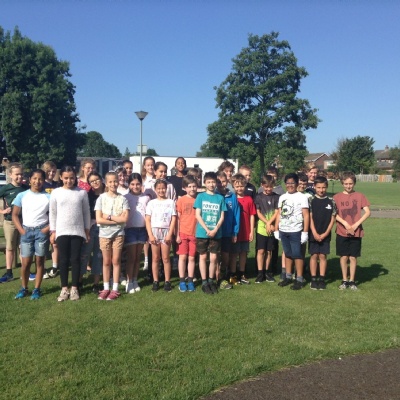 Year 5 has been a wonderful year. Many great memories have been made, pupils have bonded and we've all been extremely grateful to our teachers.
During year 5, we had to go into lockdown after Christmas. Some children stayed in the classroom, while others stayed at home. We came back in early March wearing Mufti clothes until half term. We also found out we had a new lunch lady. After half term we returned in uniform. We then started to play football at lunch, and after awhile, it became really popular.
Then came the week of Bryher. Most people stayed, and it was so much fun in the classroom. We played rounders, did arts and crafts, we watched movies, ate popcorn and held a talent show. The people that stayed made a classroom name, 5TH. The next week everyone had so much to say, so Mrs Simpson told us to write what we did that week in our English books.
In conclusion, Year 5 has been amazing. Thank you teachers for planning this amazing year.
By Eva
Mrs Hubbard and Mrs Simpson wanted to wish Year 5 the best of luck in their new classes in Year 6 and wanted to share a poem to show what special classes they are.
What a year it's been for you,
Our lovely, little crew!
We had plans and intentions
and a lot of things to do.
Yet, as you'll often find in life, we were put right to the test…
but not the normal kind we know – a weird, abnormal quest.
For back in 2020, when the lockdowns first begun,
we never thought they'd still be here in 2021.
Your world was twisted sideways; your life changed overnight.
Yet, acting for the greater good, you did what's just and right.
It's been so hard – we know that.
We're proud of what you've shown
when facing such adversity unlike we've ever known.
We're in a time in history that will be on the shelves:
a tale to tell our grandchildren that's greater than ourselves.
A spell when you were children and you had to leave your friends
to keep all of your loved ones safe and bring this to an end.
They'll look at you like heroes – the sort we know you are:
you're warriors;
you're brave, young knights;
you're bright and dazzling stars.
And, though we had to part,
in a 'social distance' haze,
we still had all the memories of countless fun school days.
But, most of all, remember how you're valued in this class.
As we look back in the future, we'll think of you and smile;
the kids who showed resilience and went the extra mile.
So, though it's time to say goodbye, just know it's not the end.
You'll live on in your memories as special year five friends.