GEOGRAPHY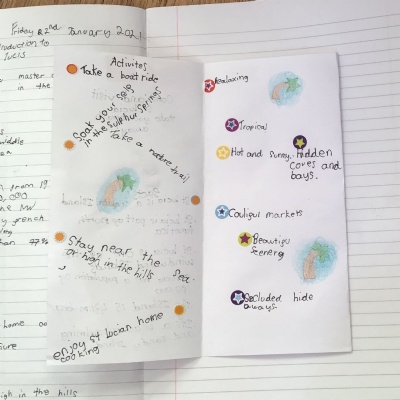 In geography this term we have started learning about some of the world's continents. The photo shows an example of the leaflets we created for St Lucia made by Grace.
We have learnt about Europe and the Americas and the capitals, mountains, key rivers and lakes of the countries in these continents. We have also been learning about the small island country in the Caribbean Sea called Saint Lucia and all its human and natural features of the island.
Europe and the Americas
While we were learning about Europe, we started learning about various countries within the continent and heard about locations which some of us hadn't heard of before, for example The Vatican City.
We discovered that the continent of Europe was made of different sized countries and that by surface area France is the biggest and the smallest is Malta.
We then went across the Atlantic and had a look at the Americas where we learned about the one of the amazing natural features there, the Amazon Rain Forest.
St Lucia
Our current focus has been looking at St Lucia and learning about the natural and physical features that are there. We have made a leaflet and also plotted the features on a map. These have included: mountains, airports, the capital city and a volcano to name just a few.
By Harry
If you would like to find out more about St Lucia you can access this link-