BCS Computer Challenge Competition Finals Day ​​​​​​​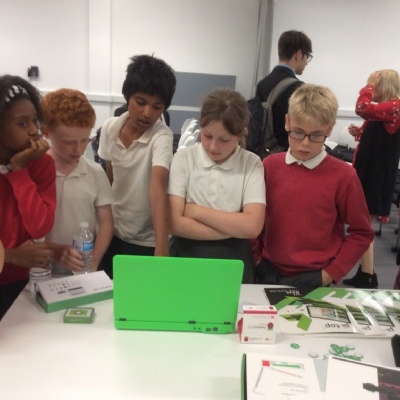 This was held at Cranfield University AIRC Site on Thursday 12th July. Four teams represented The Hills Academy in a brand new Year 5 category.
The competition was open for Year 5 to Year 10, with each category having its own task. Our task was to create an education resource to help deliver the message "Online Safety".
All the teams of children had worked tirelessly for 6 weeks after school to prepare their resource, each one choosing to make a game to encourage children to play and learn at the same time.
As a whole group, we sat and watched some children demonstrate their games, including one made by our Team OLAV. Then the nerve-racking prize giving began! The Judges had been really impressed by all the entries and the high standard of coding they had seen, and in our category they awarded Team OLAV a "Highly Commended" shield for their skills. Well Done!!
After the rest of the prizes had been awarded, there was just time for a quick tour around the brand new building. The children loved the flight simulator with two budding pilots taking charge, and then they got to see a rather big aircraft wing from an Airbus aeroplane, and listen to the talk about robots making them. They also had a look at a new laptop coming out in the UK called a "Pi-Bot" which is like an empty laptop you can build yourself. Fascinating!
At last it was time to go, so one last final group picture in the sunshine, and we headed back to school after a successful and proud afternoon. See our photos here