HEALTHY EATING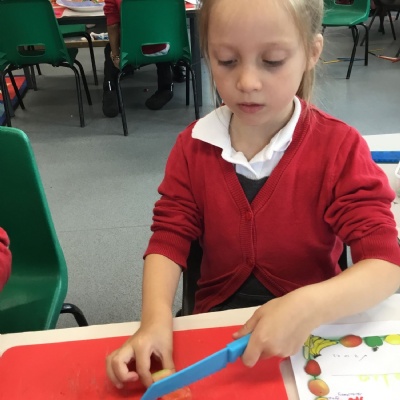 As part of our Marvellous Me topic we have been learning about different ways we can stay healthy.
We talked about the importance of exercise and each day we go for a run on the track and follow the 5-a-day exercise program. We have even been exercising our fingers during Dough Disco before we write in our Phonics books.
We talked about all the fruits and vegetables we enjoy eating as part of a healthy diet. We decided to make fruit kebabs to taste the fruits that we like and try some different fruits. Firstly, we drew a plan and coloured each fruit in the correct colour. The next day we cut up some fruit and made the fruit kebabs following our plan carefully. We all remembered to wash our hands before we started as we also learnt that washing away germs is also part of keeping healthy. We enjoyed eating our fruit kebabs together as a class.
To see some photos of our delicious fruit kebabs click HERE!