END OF TERM FUN!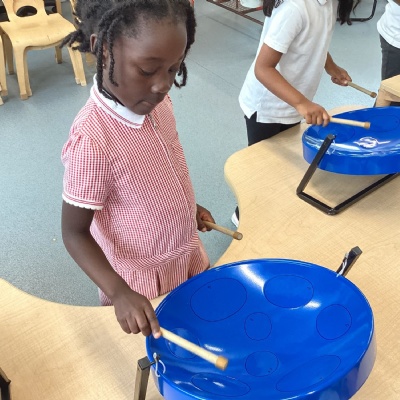 Early Years were very lucky to have the opportunity to experience playing the steel pan drums! We learned that this music originated from the Caribbean
We enjoyed listening and dancing around to some steel pan music before having a go ourselves! First, we found all the notes on the steel pan. Then we watched a tutorial on how to play the 'Baby Shark' song. We only had to use 4 notes! We loved practising the tune and enjoyed playing and singing along to the tune!
To end our time in Reception we went on our very first school trip to Bromham Woods. When we arrived, we explored the woods. We then participated in two different activities. First we went on an egg hunt. These were hidden all through the woods. When we found them, we took out the picture which revealed an animal. We used our phonics to segment the words and recorded the answer on our team sheet. Next we made sun catchers using a variety of natural resources that we found in the woods. We decorated them with colours and then attached a handle so that we could hang it up.
We cannot wait to finish off with our trip to 'Dinoland' later on this week. To see some photos of our fun, please click HERE!