SCIENCE WEEK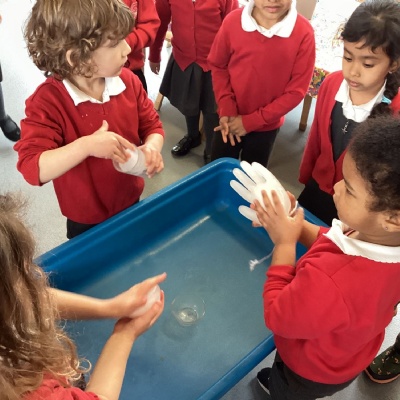 Last week we celebrated Science Week. We took part in two exciting experiments – exploring ice and building bridges.
After reading the Gruffalo story, we talked about what would happen to the stream in the wintertime when it gets really cold. Anusha said: "It turns into ice!". After we returned to our classroom, we found that some of our toys had got stuck in a block of ice! We decided we needed to help them to escape. We thought about different methods of melting the ice. Lots of us used our warm hands to melt the ice. Jessica chose to use her warm breath and huff on the ice to melt it. Hugo suggested that if we poured a cup of hot water on, it would start to melt. After a while of rubbing and chipping away at the ice, our toys were finally free. We noticed the ice had turned into water.
The following day we learnt about Snow White and the Seven Dwarfs. We listened to the song: "Hi Ho, Hi Ho, it's off to work we go" and we observed them walk across the bridge on their way to work in the mines. This inspired us to investigate how we could build a bridge to help the Dwarfs cross the river. We collaboratively worked in teams and used a variety of resources to build the bridge. We used lollipop sticks and tape and noticed that the bridges were not sturdy enough, so we persevered with making them stronger.
To see some of our investigations click HERE!