TOYS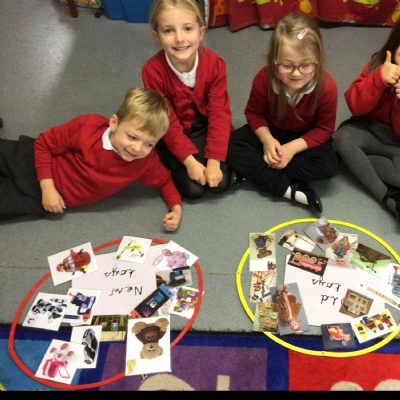 To continue our topic of Marvellous Me, Reception have been learning about toys from the past and toys the children have at home.
We talked about what toys were made of in the past and what they are made of now. Isla compared old and new dolls and said: "Old dolls had real hair on them and old dolls faces would break if you dropped it because it was made out of china. My dolls have plastic faces". In groups we sorted pictures of old and new toys into their categories. We noticed that you had to wind some old toys up and our toys needed batteries. We made a ball and cup game using paper cups, string and foil scrunched up into a ball. The children loved playing with their homemade ball and cup game. We listened to the story 'Old Bear' by Jane Hissey and we discussed how the stuffed toys worked together and persevered to get old bear out of the loft which is this terms school value.
At the end of the week, we continued the theme of toys by learning about Pudsey Bear and Children in Need. We all enjoyed make a Pudsey Bear using split pins to make the arms and legs move. We all persevered with pushing the split pins through the hole as we found it a bit tricky with our little fingers! We are proud of our Pudsey Bears.
To view some of our pictures please click HERE!