DINOLAND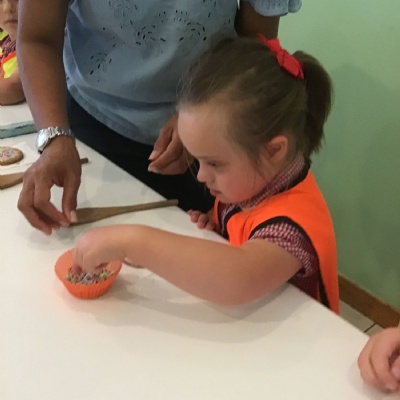 This week, both Reception classes went out on a trip to Gillivers Dinosaur and Farm Park in Milton Keynes. We had the best day!
The first park of the day was spent in the Dinosaur Park. We really enjoyed this having read so many stories about dinosaurs. We saw all types of dinosaurs both big and small. Some even moved which was quite scary!
We participated in two activities there. We made dinosaur slime - we had to mix in dinosaur blood to make it! We watched as the runny liquid changed into a sticky slimy substance! Next, we became 'palaeontologists' at the dinosaur dig. We had to dig in the sand. We uncovered some fossils including one of an ammonite and we also found some dinosaur footprints! In this park, we were lucky enough to go on a boat ride. As we went round, we spotted lots of different dinosaurs. We also went up in the tower so we could see all the dinosaurs in the park.
After lunch, we went into the farm. We visited the kitchen where we decorated biscuits and after we enjoyed eating them. We explored the farm and we saw many animals including sheep, rabbits, pigs, donkeys and goats. As we were walking around, we saw many fruits and vegetables that were growing including onions, raspberries, strawberries and runner beans. We also were lucky enough to go on a tractor ride!
It really was an amazing day! To view our photographs, please click
HERE
!