DINOSAURS!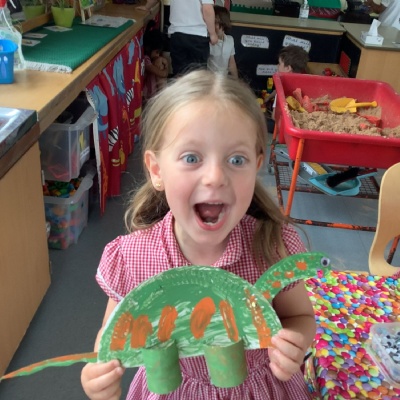 In Reception, we have been enjoying our topic, 'The Wonderful World of Books.' Over these last few weeks, we have been reading lots of stories about dinosaurs....a topic which so many of the children love!
First, we read 'Harry and the bucketful of Dinosaurs at the museum.' We learned all about museums, dinosaurs and fossils. We even made our very own dinosaur fossils! First, we made our own salt dough, then we pressed a small toy dinosaur into it. Then we waited for a few days. We noticed that the dough was no longer sticky and squidgy, but it had turned hard leaving the imprint of the dinosaur!
We also learnt a new word- extinct. We listened to videos and songs that explained to us why dinosaurs had become extinct. Thomas told us, "There was a big meteor that hit the earth and killed the dinosaurs – it's like a giant rock!" We also found out that volcanos had a part to play too. The children loved watching a volcano erupting and seeing all the hot lava running down the side of the volcano. After that, we enjoyed producing volcano inspired art using pastels.
We also listened to the story 'How to Grow a Dinosaur.' We made some of our very own dinosaurs. We grow ours out of a paper plate! We cut, shaped, joined and painted our creations.
To see some of our amazing dinosaur work, please click HERE!