BATS!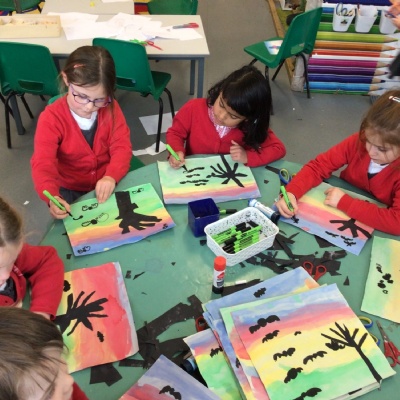 This term, our topic in Reception is 'Into the Woods'. This half term we are learning about animals that live in the woods.
We started off our topic by learning all about owls. This week we have been learning about bats. We enjoyed listening to non -fiction bat books and we learnt so many interesting facts. Penny told us that the most interesting that she'd learnt was, "a baby bat is called a pup." We have learned lots of amazing new vocabulary too including 'nocturnal' and 'echolocation.'
We have been very creative and produced some beautiful pieces of bat inspired art. First, we learned how to colour wash the background. We were fascinated by the way the colours mixed and blended into one another. Then we added bat and tree silhouettes to our picture. Some of us cut out bats and tress using black paper and some of us chose to use a pen to draw the bats. We were so pleased with how they turned out. To see some examples of our work, please click HERE!