PUDSEY FUN IN RECEPTION!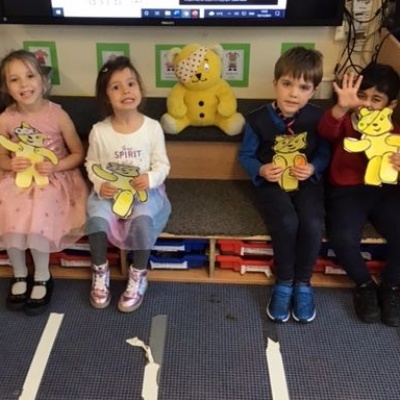 Last Friday was Children in Need day. The children in reception enjoyed coming to school in their 'Strictly Come Dancing' themed outfit. There was certainly lots of sparkles - even on some of the children's faces!
The children learned about what 'Children in Need' was for and why we were raising money. Our favourite of the day was being introduced to the loveable bear Pudsey, Children in Need's famous mascot. The children were challenged to make their own moveable Pudsey Bear. They were given a template for Pudsey's body parts and coloured them in. Then the children practised their scissor cutting skills and worked with great care to cut each one out. Finally, they joined the body parts together using split pins. Using splits pins was new for most of the children, however they worked hard to push through the pins to complete their Pudsey Bears! The children all demonstrated this term's value of 'perseverance' well during this tricky, but fun filled task. The children were so proud of their Pudsey Bears!
To see some pictures from the day, please click HERE!