TENNIS!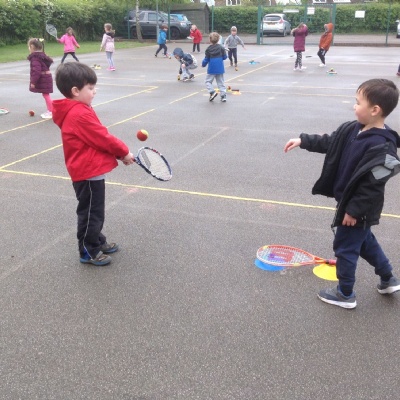 This week we had a tennis coach in to visit us. We were so lucky with the weather and the rain managed to hold off until we had finished! Each class took it in turns to have a lesson with the coach.
We all had a fun time learning new skills. We had to listen carefully to the instructions for each activity. We practised a variety of tennis related activities. First, we practised tapping the ball with alternate feet. Then we patted the ball with alternate hands - like a mini basket ball. Next, we had to balance the ball on the racquet - it was hard - especially when he asked us to roll it around the whole of the racquet! Initially, we had many escapee balls over the playground! But the more we practised, the more our hand eye coordination improved! At the end of the lesson, we got to have a little game of tennis with our partners. We made a net using two cones and balanced one of our racquets on top of them. One person threw the ball and the other person tried to hit it back over the mini net. We had so much fun playing tennis!
To see some photos, please click HERE!