OUT AND ABOUT!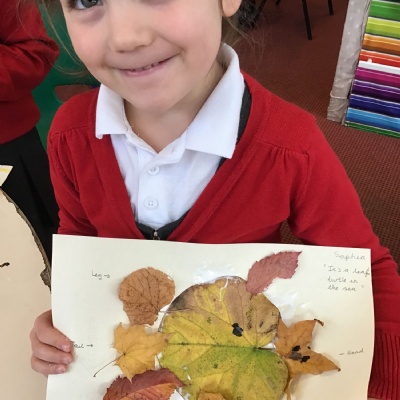 In Early Years our topic is 'Marvellous Me!' We have been learning all about our local environment. The weather had been kind to us, so we have managed to get out and about for a couple of walks.
For our first walk, we went out of school for a stroll to look at different types of houses that people live in. We realised that there are lots of different types of houses including bungalows, flats, detached houses and semidetached houses. We used what we had seen as an inspiration to construct our own models of houses. Amberley said:
"I liked the walk. I saw a detached house. It doesn't connect to another house.... and I saw a bungalow - it's a house with no upstairs."
The following week we started to learn about how our environment is changing at this time of year. We went for a walk in the school grounds to look for signs of autumn. We noticed mushrooms growing on ground, lots of bare trees and many beautiful coloured leaves on the floor. We enjoyed picking up the leaves and talking about the differences in shape and colour. We thought about how the weather is different to the summer and what we had to put on to get ready to go out for our walk. Jacob said:
"We had to put on our wellies and coats because it's getting cold and wet now."
Upon our return to class, we listened to an autumn story called 'Leaf Man'. We realised that we could use the leaves that we had collected on our autumn walk to create our own pictures. Some of us made hedgehogs with the leaves. We even had a leaf man and a leaf turtle!
We have enjoyed exploring outside our school. To see some pictures of our walks, please click HERE!